Candy Bar Fundraiser
Candy bars have always been guaranteed money-makers. Did you know that 98% of households buy candy? With interested buyers everywhere, you'll make faster sales and more profit! We offer your group America's most popular brands. All boxes of candy bars are compact and come with a handle for easy use. As always, shipping is free!
$1 & $2 Bar Variety Packs - Peanut Free
$1.50 Hershey Chocolatetown Plus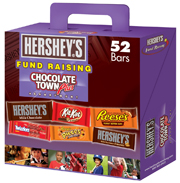 Hershey's $1.50 Variety Pack fundraising bars come in 2 different packs which include Chocolatetown Plus and Hershey Max…
Read Full Details
$1.50 Hershey's Max Assortment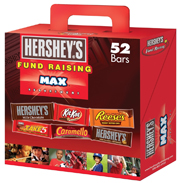 Hershey's $1.50 assortment that showcases six different selections, including the Hershey's Take 5..
Read Full Details
$2 Hershey Fundraising Assortment,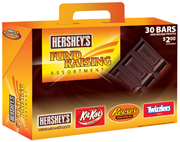 Hershey's $2 Variety Pack fundraising bars come in variety packs that contain 120 candy bars. Candy bar size range from 1.85 oz to…
Read Full Details

We'll Ensure Your Next Candy Bar Fundraiser is Effortless!
We guarantee the highest profit on all of our candy bar fundraisers
Free Shipping on all orders
Minimum order is only 1 case
Proven selection of candy bars - the various flavors have been tried and proven over many years, to come up with the perfect selection that will sell best!
Sturdy and attractive carrier cases
Top quality brands and quality chocolate product
Our customer service team is here to help you from the beginning to the end. Choosing the right candy bar fundraiser is the first step to a successful fundraising campaign, and our experts will help you do just that.
Some of My Favorite Candy Bar Fundraising Programs:
$1 America's Variety candy bar fundraiser: each master case contains 4 carrier cases. Groups really like it because it features 5 flavors which mean there's something for everyone. Even with a minimum order of 1 case, you earn 41% profit and free shipping.
$2 Community Chocolatiers: I like this one because of it's simplicity and profitability. It contains only the 3 best-selling flavors, and you start making 50% profit on a 1 case order (and climbs as high as 65% profit).
Tips and Ideas for Candy Bar Fundraisers:
Which candy bar fundraiser is best for you? As you can see, JustFundraising carries several candy and chocolate bar fundraising products. We realize that every group is different and that it's important to find the right one. If your group has done specific candy fundraisers in the past that have been highly successful, stick with what works. If you're new to fundraising, review the following tips, including pricing and branding considerations.
Should You Sell $1, $1.50 or $2 Candy Bars?
Each of them has their pros and cons. The $2 candy bar fundraisers have a higher percentage profit than the $1 bars – some range from 50% to 65% profit versus the $1 bar ranging from 35% to 50% profit. $2 bars also sell for twice as much which adds up to even more profit for your group. However, will you be able to sell as many $2 bars as $1 bars. The $1 candy bars are a no-brainer because everyone is familiar with paying $1, and many supporters may actually purchase more than one at a time. The $2 candy bar fundraiser was introduced to fundraising about 10 years ago and people are becoming more familiar and accepting of the $2 price point. However, it really depends on your neighborhood and how price sensitive your buyers are. If you live in a less affluent area, you'll be safer to fundraise with the $1 bars; if you live in an affluent area, I would go with the $1.50 - $2 bars. If you live in an average income area, you might want to give the $2 bars a go – they could help you raise more, faster!
Should Brand Be Important To You?
Brands like Hershey's and M&Ms have been popular in the candy bar fundraising market for decades. However, less known brands like Van Wyk Confections are starting to make inroads in fundraising with very impressive carrier cases and packaging, premium quality chocolate and more aggressive pricing, which means higher profits for groups like yours. So, yes brand can play a role in your candy bar fundraiser but with so many other contributing factors, including everybody's desire to simply donate to a worthy cause, it's role is greatly diminished.
How Many Cases Should You Order?
Firstly, determine your fundraising objective. Make it realistic. If it's too high, consider 2 or more fundraisers to reach your fundraising goal. Next, determine how many candy bars each member has to sell in order to reach that goal. Example: if you have 50 sellers, and you need to make $2000 profit, and each candy bar generates 50 cents in profit, you need to sell 4000 candy bars, or 80 bars per seller. Once you've figured out the total number of candy bars needed, divide it by the number of candy bars per master case. Example: Each master case of America's Variety candy bars contains 208 bars, therefore if you determined you needed to sell 4000 bars to reach your goal, you would order 20 master cases (4000/208 bars). It can get complicated, so consider using our Profit Calculator which can be found on every candy bar product page, or call us at 1-888-440-4114.
How Do You Pay For This Fundraiser?
Don't have a lot of funds? No problem! JustFundraising helps small groups and small budgets by allowing groups to order as few as 1 case at a time. And you still get free shipping on a one case order.
It's Easy To Get Your Candy Bar Fundraising Campaign Started
Call us and tell us you're interested in starting a candy bar fundraiser. We'll be happy to review the options with you and make some suggestions based on your group type, size and fundraising goals.