Top Band Fundraising Ideas

Band Fundraisers

Music education programs are perhaps the most undervalued and underfinanced areas of most schools. From marching bands to orchestras, choirs to music class—these programs give our children the opportunity to learn discipline and develop creativity. They can also be a unique source of self-esteem and a safe place for youth to learn how to express themselves. The goal of music education programs is not to create our future rock stars, but to instead imbue childhood with confidence and joy. Band programs are costly to run, with expenses ranging from uniform repairs to new instruments. Sadly, arts programs are most often hit first when budgets are slashed.

The irreplaceable opportunities that band practice provides cannot go without the proper funding. The unfortunate truth is that they frequently do. Traditionally, schools raise money through hosting events or selling fundraiser products. Some fundraising ideas consist of talent shows, bake sales or car washes as well as selling candy bars, pens, and t-shirts. Too often these efforts rely on the time, energy and research performed by concerned parents and school staff. When children's creativity and self-worth is at risk, it is a huge advantage to have the help of a professional fundraising partner that has the know-how.

A New Challenge? Music to Our Ears!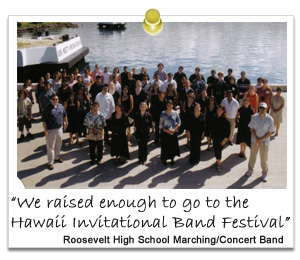 For fifteen years, JustFundraising has been enabling teachers, parents and directors of music programs to successfully reach their fundraising goals. Fundraising can be a challenge, to say the least. We make it easy by inspiring schools and parents to find a fundraising idea they know will work, and then provide the fundraising products necessary to make the campaign profitable. After helping over 30,000 groups raise more than $70 million, we're ready to outfit your school's band program today.
JustFundraising Offers the Following to Ensure You Raise More:
Fundraising Experts To Help Guide You

Free Order-Takers and Free Shipping

High Quality Products That Sell Themselves

20+ FREE-to-Start Fundraisers

The Highest Profit Guarantee or Your Order is FREE
For helpful fundraising tips on how to setup your cheerleading fundraiser click here or scroll-down the page.

Browse our Other Categories of Band Fundraising Products
Fundraising Tips for Your Band Fundraiser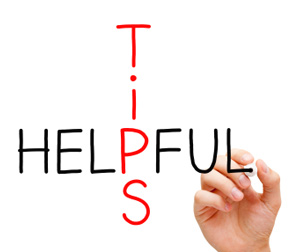 Choose the Right Fundraising Product:
Prior to starting your fundraising activities, you will want to get a really good feeling of the needs of your fundraiser and your local community. Listed below are some factors to consider prior to choosing which fundraising products your fundraiser should provide:
Price Point - Have a sense of the economic situation of the areas you will be reaching out to. You need to provide a solution that is in line along with your local community's means. Ensure the products provided by your fundraiser are priced affordably for the area.
Demand - Find out what's well-known or in-demand inside your region. You need to ensure you are offering a solution that your supporters prefer. Providing an in-demand item significantly reduces the sales pressure on your volunteers by letting the product speak for itself. Abide by this simple point and it's going to help your fundraising sales hugely.
Quality - Even though a worthy cause such as a band fundraiser can be a strong incentive for prospective supporters, you can't ignore the effect of a premium quality fundraising item. An excellent item could mean a number of contributions from the same supporters mainly because you are supplying a product they definitely love. In addition, it suggests they'll be more likely to help your cause next time you touch base with them.
Profit Level - It's critical you discover a solution which has a very good balance of your above listed criteria but it's similarly vital not to forget your profit level. If your solution meets each and every other requirement but doesn't create income for the fundraiser, then it is not contributing to your band's fundraising targets. Pick products that deliver at least a 40% profit earning. This will likely drive down the amount of unit sales necessary to reach your objective.
We want to help. Call one of our experts at 1-888-440-4114. We'll answer your questions and help you find the perfect fundraiser for your band.
Get Organized
If we incorporate the sellers, their parents, extended family, in conjunction with teachers and employees, your fundraising mission may well you require you to coordinate hundreds or even thousands of adult and youth volunteers. With this in mind, you are going to need to get very-organized and produce a fundraising strategy that thinks about all of your communication and management needs. Here are a handful of tips to help you to get moving:
Set up an overall fundraising profit purpose, and person sales targets, and be sure they're communicated regularly to your sellers and parents all the way through the fundraiser.
Organize a listing of adult volunteers and describe their tasks - weekly funds collection, distribution day, etc.
Prepare yourself a list of times from kick-off date, to collection dates, to distribution day, and abide by them.
Prepare yourself a list of weekly meeting dates for the Fundraising Board, so you'll be able to deal with any concerns inside a timely style. Obtain all of their emails and ensure your CCed on any fundraising-related situation, so it is possible to remain inside the loop.
Set up an incentive program that's sure to inspire the sellers (and their parents!). Be sure you possess a spot in the school where kids can see the rewards all through the fundraiser.
Have one of the most successful speaker, often the principal, be part in the kick-off sales pitch.
Prepare weekly letters as well as emails to help keep the kids and parents informed about the fundraiser status.
Motivate Your Band Fundraiser Volunteers
It can be difficult to preserve morale all through the entire duration of a fundraiser (some can last the entire school year!) so you, as an organizer, should employ tactics to help keep motivation elevated. Consider these ideas:
Assign personal 'accounts' for individuals, groups or classes so their progress and contribution may be tracked separately. This can help add a healthful competitive spirit that can give a good boost to motivation.
Offer gifts or other incentives to individuals, groups or classes that surpass certain milestones like quickest or most sales.
Do shout-outs to groups or individuals that are succeeding or improving. This could be performed inside a weekly e-mail recap, a social media update or at a band assembly. Public recognition can be a highly effective motivator.
Don't forget to maintain an enjoyable and light atmosphere so volunteers can go about their duties inside a pressure-free environment. A lot of tension on your volunteers can lead to issues with motivation. Don't forget to have fun!
Make certain you and your teams thank your supporters for their donations and inform them of the difference they've created in reaching your band fundraising ambitions.
Turn fundraising activities into a valuable learning experience
Sometimes the frantic pace of a fundraiser can overshadow just how much of a valuable learning experience it may be for kids. Don't forget to draw focus on the skills kids are building. Setup sessions to talk about and train students and volunteers on how you can develop or showcase these skills. These abilities incorporate:
Communication Skills - Young children will learn how to communicate ideas and targets to prospective supporters. Communication capabilities are critical and establishing them early can be a fantastic asset.
Math Skills - Despite the fact that fundraisers commonly only require addition, subtraction, multiplication and division, volunteers will have to carry out these operations on the fly several instances all through the fundraiser. These math skills will continue to be valuable for the rest of their life.
Teamwork - Children working collectively within the buddy system or in bigger teams get to experience what it is like to work with other individuals to attain a common purpose. At the same time, every single seller's personal efforts are for the good of the whole class or band, not themselves personally. Finding out ways to work as an element of a group will come to be essential in their lives once they progress into higher education and the working world.
Sales Expertise - Kids will be able to build abilities in salesmanship which benefit much more than just persons in sales. An excellent sales approach is often applied in several fields and having this skill early can mean extra possibilities for accomplishment.
Leadership - Kids who want to improve or sharpen their leadership qualities can take on the function of leader in their particular teams to assist keeping their group organized and driven. These experiences will help shape the leaders of tomorrow!
Band Fundraising Safety Suggestions
There are numerous constructive components to fundraising but even with all the positivity, we cannot forget to make certain volunteers are conducting themselves in a protected fashion. Make certain to talk thoroughly about fundraising safety within the fundraising kick-off meeting. Be sure to use these suggestions to ensure your volunteers are safe and protected while attempting to attain your goal:
Always be sure young kids are with parents or recognized adults when fundraising door-to-door
Older kids and teenagers must always make use of the buddy system and have no less than two players traveling with each other. A common configuration includes 3 older kids, 2 who will be ringing the doorbell and 1 which will remain on the edge of the property to have a safe view in case help needs to be called.
Do not enable your volunteers to enter within the residence of strangers when going house-to-house. Instruct them to keep all house-to-house fundraising activities beyond the front doorstep, quite a number of feet from the door to be sure neighbors and passersby have got a clear viewpoint
Do not enable your volunteers to carry huge amounts of money funds. Have volunteers store funds inside a secure and protected location on a consistent schedule to ensure they're not carrying an excessive amount while visiting house-to-house.

We recently ordered scratch cards through Justfundraising. They worked so well that we called a week later to double our order. With our small group of 20 members, we raised $1,800 profit in 2 weeks. The most convenient fundraiser I've ever been a part of - We no heavy cases of candy bars, there were no large inventories to deal with. I highly recommend the Skratchers program to any group looking to raise money.
everyone who ordered wished they would have ordered more and the ones who didn't order wants to order them now. Those cookies were wonderful; they taste good even after you let them sit. I mean days later they are still soft and oh so delicious! I am not kidding, I bought and sold cookie dough several times and all the cookies get hard after a while. But not Crazy about cookies, they got some good cookies! We will be selling these again and now I have more participation from the members. The proof is in the cookie dough, no one thought it would taste this good. Thanks for everything.