Top Christian Fundraising Ideas

Christian Fundraising

Christians form the largest charity on the planet contributing untold amounts of money to worthy causes all across the world. Communities, groups and churches work hard to contribute and build a better world for their fellow man through missions, education and special projects. The reality is, to make a difference; there is often a need to raise money for those in need.

The challenge often comes when organizers and motivated members of the congregation look for fundraising ideas. Where does a good Christian start? Followers of God have charity at heart but finding the right fundraising solution can allow you to make a bigger difference in your community.

Fundraising Options

We have helped thousands of Christian groups reach their goals with some popular no-money upfront fundraising options such as our Cookie Dough fundraiser which has been our customer's most successful fundraising product to date. Other great fundraising products include our Candles. Groups can choose from a variety of candle fundraising products including our Journey of Faith and Quote candles. Browse our many options and give us a call so we can help you find the right fundraising solution for your needs.

Let JustFundraising.com Help You Help Them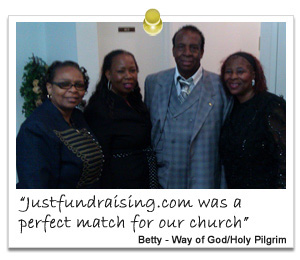 15 years of experience in fundraising can really make the difference. JustFundraising.com has helped raise over $70 million for 30,000 groups across the United States. Benefit from the experience and guidance our fundraising experts offer and become a part of the success by starting a JustFundraising fundraiser today!
JustFundraising Offers the Following to Ensure You Raise More:
Fundraising Experts To Help Guide You

Free Order-Takers and Free Shipping

High Quality Products That Sell Themselves

20+ FREE-to-Start Fundraisers

The Highest Profit Guarantee or Your Order is FREE
For helpful fundraising tips on how to setup your christian fundraiser click here or scroll-down the page.

Browse our Other Categories of Christian Fundraising Products
Justfundraising.com was a perfect match for our church to raise funds for our 37th and 38th church anniversary! Last year we were trying to find a new avenue to raise funds without putting in long hours of work. I was sent an e-mail last year and I thought, this is too good to be true! I proceeded to read the success stories posted on the website and I was convinced to give it a try! Justfundraising is "Just" what they say they are! The name speaks for itself! We have raised over $500 using Snackin In The USA. We look forward to an even more profitable success next year.....thank you for your prompt, courteous and professional staff!
Just wanted to thank you for your help in our fundraising for our camp this year. We have helped the students out with their cost a lot. They had a fun time competing with each other but also helping themselves to raise money for camp. We have used Justfundraising now for 3 events and it has been just as successful for us each time. We know that we will be using it again and again because the people who are buying the product really like the taste and the quality of what they are paying for. So, thanks again!!