Church Fundraising Ideas

Top Church Fundraising Ideas

A church is a place of sanctity and quiet calm, a place where people can feel comforted and reassured about their place in life. Many church organizations also play a key part in building a stronger community by offering their citizens a common meeting place to pray and celebrate. Many ministries need funds themselves simply to keep their light and heat running, and therefore depend on the goodwill of others just to keep their doors open. As you know, fundraising has always played an important role in churches, but now, with continued budget cuts, fundraising is becoming even more important.

Church fundraisers may be required to raise money for church equipment, audio equipment and supplies for the choir, as well as minor or major church renovations, and even covering employee's salaries. Youth ministries commonly fundraise for projects such as mission trips, bible study supplies and fundraising for local charities. Fundraising activities vary from soliciting donations, throwing major events and even selling merchandise and unique products. JustFundraising carries a multitude of proven and trusted church fundraisers, and we can help.

Just Fundraising Wants To Help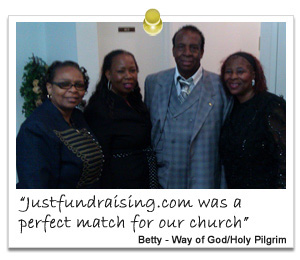 JustFundraising is proud to have helped church groups and other faith based organizations raise millions of dollars for churches and other faith based organizations around the country. It feels great because we know that churches are constantly contributing to charitable causes around the world and people of the faith have donated so much time and money to help the needy. With over 40 different ideas for fundraising, most requiring no up-front cost, we're confident we can help your organization reach it's financial goals.
JustFundraising Offers the Following to Ensure You Raise More:
Fundraising Experts To Help Guide You

Free Order-Takers and Free Shipping

High Quality Products That Sell Themselves

20+ FREE-to-Start Fundraisers

The Highest Profit Guarantee or Your Order is FREE

So How do You Get Started?
Review our church and faith-based fundraiser ideas listed above. Also, we have specific fundraising recommendations based on more specific organizations listed below. Keep in mind, every church or religious organization has different needs, so what works for you may not be the best for other groups. View the fundraisers, discuss them with others involved in your organziation, and please feel free to call our team for any guidance.

Take the Next Step to a Great Fundraiser:
Request your

Fundraising Info Kit

Call our friendly team at 1-888-440-4114
Browse Just Fundraising's products to get started