Top Choir Fundraising Ideas

Choir Fundraising

Choirs bring so much joy to church goers and audiences across the country with the inspiring gift of music. Although choirs have been a core part of church life and musical competitions for many centuries they do come at a cost. Choir robes, band instruments, stage rentals and travelling can add to an ever-growing list of expenses church and choir organizers must maintain.

Choirs need fundraising ideas that can quickly get results so their time can be spent improving their craft and spreading joy to their audiences.

Fundraising Options

JustFundraising has helped countless choir groups and we've found that many have experienced fundraising success with our Cookie Dough & Snackin' in the USA order-takers which offer great products to your supporters, with no up-front costs for your choir! Our candle fundraisers, including our Journey of Faith, Quote, and Earth candle programs, are also some of our star sellers. They come in various scents, are hand-poured in the USA, and come gift-boxed. Although these are some of our most popular products for choir fundraisers, we know every group is different. We have a large selection of other products that can fit your needs. Let our experienced fundraising experts work with you to find the one that will perform best for your fundraiser!

JustFundraising Can Help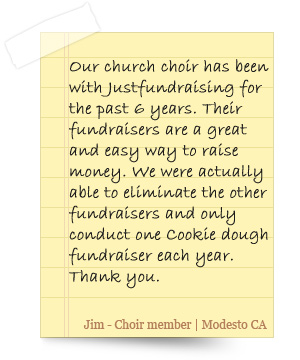 Choir groups just like yours have made use of our 15 years of experience in fundraising to achieve their fundraising goals. You better believe that JustFundraising.com has helped raise over $70 million for 30,000 groups across the United States. With our guidance and fundraising experience you can be well on your way. Benefit from the experience and guidance our fundraising experts offer and become a part of the success by starting a JustFundraising fundraiser today!
JustFundraising Offers the Following to Ensure You Raise More:
Fundraising Experts To Help Guide You

Free Order-Takers and Free Shipping

High Quality Products That Sell Themselves

20+ FREE-to-Start Fundraisers

The Highest Profit Guarantee or Your Order is FREE
For helpful fundraising tips on how to setup your choir fundraiser click here or scroll-down the page.

Browse our Other Categories of Choir Fundraising Products
Our church choir has been with Justfundraising for the past 6 years. Their fundraisers are a great and easy way to raise money. We were actually able to eliminate the other fundraisers and only conduct one cookie dough fundraaiser each year. Thank you Justfundraising you help simplify our fundraising efforts.