Top Family Reunion Fundraising Ideas

Family Reunion Fundraising

Trying to reconnect with distant or lost relatives can unfortunately be a financial burden. With globalization and ease of travel, families are often spread across the world. While social media and innovations in technology make remoteness less of an obstacle, there is an irreplaceable quality to family time spent together around the same table. For family reunions - especially infrequent ones - it is important not to exclude anyone, but financial situations can often pose difficulties to those wanting to attend. Some families choose to support bringing everyone together through community fundraisers in order to substantially offset the travel expenses of those the furthest away.

Reunions can pose an incredible opportunity for families to reach out to their communities to do something special, memorable and exciting. It gives them a chance to show their community that they value family, and to introduce the uniqueness of their family's character as something fun and inspiring. Fundraising ideas for family reunions could include throwing banquets, hosting dances, and car washes or bake sales. While these events highlight enthusiasm, they are often time consuming and fail to meet fundraising objectives.

Your Goal is to Raise Money. Ours is to Reconnect Families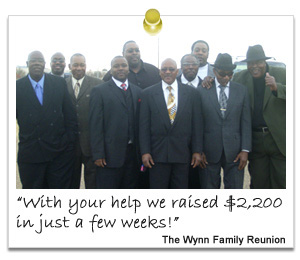 JustFundraising.com has enabled over 30,000 groups raise $70 million and counting, using our expertise as a cornerstone in the fundraising assistance industry. We help inspire fundraising ideas and create personalized fundraising initiatives in order to launch easily executed, high-profit campaigns. After fifteen years working to help achieve fundraising goals, we know our efforts can significantly contribute to the success of any fundraising campaign—no matter its scope.
JustFundraising Offers the Following to Ensure You Raise More:
Fundraising Experts To Help Guide You

Free Order-Takers and Free Shipping

High Quality Products That Sell Themselves

20+ FREE-to-Start Fundraisers

The Highest Profit Guarantee or Your Order is FREE
For helpful fundraising tips on how to setup your family reunion fundraiser click here or scroll-down the page.

Browse our Other Categories of Family Reunion Fundraising Products
All of us on Wynn Family Reunion Committee would like to commend Just Fundraising for their stellar customer service and professionalism. With your help our committee help raise $2,200.00 in a few weeks. We take inspiration from the success they have had at the hands of our cookie dough sale. Thank you again for a wonderful job well done.
It is nice to find a company that cares about it's customers and thankful they have customers. Our family reunion was a great success thanks to you and the earth candle fundraiser.