Soccer Fundraiser
Surpass Your Soccer Fundraiser Goals With JustFundraising!
Your most successful soccer fundraiser is within your possession! JustFundraising's innovative and highly profitable fundraisers supports soccer teams and leagues across the country. If you want to focus on your game this season, choose JustFundraising to help your soccer fundraiser raise more in less time.
Simplify Your Soccer Fundraiser!
Justfundraising will help you simplify your next soccer fundraiser. How? Justfundraising has designed its fundraising lineup to meet the needs of the coach and players with quick, simple and profitable soccer fundraisers.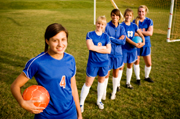 Learn More About Soccer Fundraisers
Kick Off Your Soccer Fundraiser Today!
Kick off your next soccer fundraiser with any of these great programs:

See all fundraisers
JustFundraising understands the importance and the impact of soccer in the everyday lives of America's families. As a result, JustFundraising has the right fundraisers and knowledgeable consultants to get you started on your most successful soccer fundraiser ever.
Joan Perez, Fund-raiser committee - Garden Spot Soccer Club, New Holland, PA
"You have been a big help in selection a fundraiser for our soccer club. I don't know of any other profit-making product that would make 50%. In selling lollipops, which they sell themselves, we have sold three cases (1728 pops) in 20 days. My daughter actually sold a case all on her own. The club was so happy; we decided to order two more cases. Comments have come back to me, ' We should have been selling these two years ago.' "