Scratch Card Fundraiser
Quick And Profitable Scratch Card Fundraiser!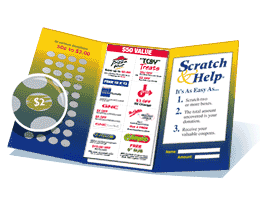 JustFundraising's scratch card fundraiser is a quick, simple and highly profitable fundraiser for any group. You will earn up to 90% profit without the hassle of regular fundraisers. Plus you will offer you supporters more value with your favorite nationwide merchants; Subway, Pizza Hut, Blimpie, GNC Live Well, FTD.com just to mention a few. Customize your scratch card fundraiser with your group or team colors, logo and name printed for free. You can even customize the coupons to honor your local sponsors and merchants.
How A Scratch Card Fundraiser Works
A scratch card fundraiser is simple and profitable. Each person in your group begins fundraising with 1 scratch card. They simply approach friends, family, and close neighbors and ask them to scratch two or more dots! The total amount reveal is given in return for a coupon sheet with offers from your favorite merchants. The card remains with the seller until all dots are scratched off. Each card will raise a total of $100.
90% Profit - Why raise 50% profit with candy when you can raise 90%?
New and Unique - tired of candy? Its a NEW, easy way to raise funds.
Quick & Simple - no order-taking or deliveries required.
Your Donors get More Value - $50 in coupons they will actually use.
Customize Your Cards - Shows your group name/logo/colors for free!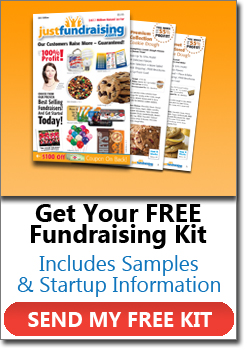 A Scratch Card Fundraiser With No Equal
"This year, we raised more with Scratch Cards than we did last year with our chocolate bar sales, car wash and spaghetti dinner combined."
Tim Keese, Seneca Basketball
A New, Highly Profitable Fundraise Opportunity
So if you are tired of running the same old fundraiser with mediocre profits, try a scratch card fundraiser! You won't be disappointed with higher profits and with no hassle as compared to fundraisers out there. A JustFundraising scratch card fundraiser is your answer to simple and successful fundraiser.
Less Hassle For Teams … Darrin McComas, Burroughs H.S. Baseball Team "Fundraising is something I don't like to spend too much time on and I found Skratchers didn't take much time or effort. With 40 players we raised $3,300. We'll definitely use Skratchers again next year."
1-Day Fundraising For League's… Todd Meyers, Lakeland Little League "Last year, our little league of 438 players raised $35,000 in 1 day with Skratchers' "1-Day Fundraiser"! They played ball free all summer long and their uniforms, hats and diamond fees were all paid"