Christian Fundraiser
"Your Christian Fundraiser can be something to Believe In"
Let everyone know you mean business when you carry out your next Christian fundraiser. We know how important church services and activities are for congregation members and are inspired by the great commitment church groups have for community work. JustFundraising customer representatives are devoted to making sure your Christian fundraiser fully supports church causes. Your church group can let go of all its financial worries by doing a solid Christian fundraiser that will put crucial funds in your church account and provide supporters in your local community with quality products as a 'Thank You'.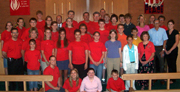 Learn More About Christian Fundraisers
TESTIMONIAL: "Our group had a lot of fun selling the Star Bright products. The profit we made will help will us cover the costs of field trips. Thanks!"
Regina Barber, Rugged Cross Christian Academy
Click Here - Free Fundraising Catalog
OR
Call Toll Free 1.888.440.4114
Your Christian Fundraiser Can Lend a Warm and Helping Hand
A Christian fundraiser can be a source of financial hope when dealing with various church related expenses. I'm sure there are numerous mission trips your congregation would love to devote their time and effort to and perhaps your church's choir would really appreciate new gowns or equipment. A no-nonsense Christian fundraiser will contribute to these needs and can even raise funds to support community outreach programs and charities. Our experienced fundraising assistants are here to make sure you find a Christian fundraiser that achieves top performance.
Pick A Christian Fundraiser that Gets Results
Justfundraising is always here to point your Christian fundraiser in the right direction. We work with hundreds of church groups every year so let us help you discover a Christian fundraiser that will serve your ministry faithfully.
TESTIMONIAL: "We needed to raise money to build a new baseball field. Our "Field Of Dreams" would need lights, grass, bleachers etc... We decided to sell Emma Lou's cookie dough and raised $19,194.12!!! The cookie dough was much easier to sell than the candy bars they usually sell. One of our 6 year olds sold $1500.00 worth!
Amber Elder, St.Bethlehem Little League
Click Here - Free Fundraising Catalog
OR
Call Toll Free 1.888.440.4114
Get Started sooner with our top quality no money down up front fundraisers:
Set up a Christian fundraiser that will allow your church to do what its heart desires. Why lose any more sleep over bills and everything your church is missing out on because of money issues? Call us or click here to request an info kit on our Christian fundraisers.
TESTIMONIAL: "The money we raised will help us get our new youth group started. The kids really enjoyed selling the cookie dough, and will using the funds for uniforms and various activities. Thanks so much!"
Alisa Barnes, Newark Heights Church Of God
So What Are You Waiting For?