We want to talk about popcorn fundraisers, but first? Let's talk about popcorn.
No, it's not just your dad's jeopardy snack. And no, it's not just a butterless substitute for chips on days you want to feel more healthy. Popcorn's more than that! It has diverse range! Don't typecast it as the bland and boring cousin, it can play bigger and better roles! Not sure if you heard, but popcorn has been working on its image and is really making a comeback.
Pre-popped brands like Bad Monkey Popcorn, Boom Chicka Pop, and Lesser Evil have innovative flavors and top notch marketing that makes them undeniably cool. And then there's EATABLE, who's taking it to a whole new level by selling alcohol-infused gourmet popcorn with flavors inspired by cocktails, wine, and spirits. Whoa!
But in case you're starting to feel like you don't even know popcorn anymore, fear not. Popcorn has always been innovating with delicious flavors, while being simultaneously comforting and nostalgic.
Salty buttery popcorn reminds us of going to the movies for the first time. Bags of caramel corn transports us back to late summer magic at the county fair. Smartfood's been selling their iconic white cheddar flavor since 1985, and maybe you've heard of a brand called…Cracker Jack?
History Lesson Time!
Cracker Jack's been around since 1896, when it first introduced molasses-flavored, caramel coated popcorn with peanuts to the world. Later that year it was sold at a ballgame for the first time, and in 1907 it was first sold at a Major League ballpark. It's nostalgic connection to baseball was forever sealed when a year later it was mentioned in the little ol' song, Take Me Out to the Ball Game. Maybe you've heard it?
We could talk about popcorn all day (did you know popcorn's sweet and salty trail goes back even further, with advertisements for sugar-coated popcorn dating back to 1857??) but the point is, we think popcorn's diverse range of flavors, nostalgia, and trendiness make it the perfect idea for your next fundraiser.
Our Popcorn Fundraisers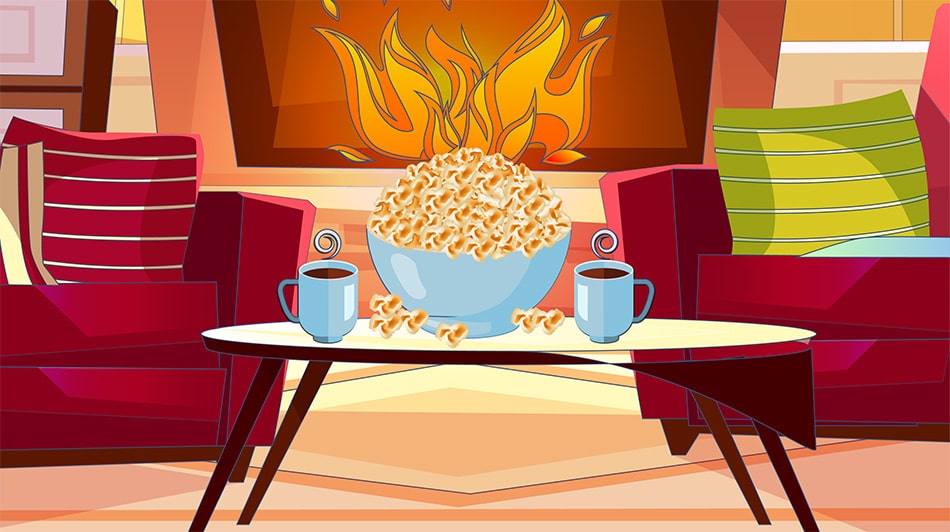 JustFundraising has two popcorn fundraisers that we think you'll love. One is our seasonal Caramel Popcorn fundraiser and the other our Gourmet Popcorn fundraiser. Both offer a variety of delicious flavors, and each fundraiser has its own perks.
Make Your Popcorn Fundraiser Decadent
Our Caramel Popcorn program features six dreamy, delicious, and irresistible flavors like Chocolatey Delight, Buttery Caramel, and Louisiana Hot & Sweet! These flavors are so decadent (did we mention the Peanut Butter Delight?) that they're basically a dessert all on their own.
Serve it as a deluxe snack or as a festive holiday treat paired with apple cider or hot chocolate. Each popcorn flavor is packaged in a large tub for $17, so there's more than enough to share. This fundraiser only ships in weather cooler than 65 degrees F, so winter is the best time of year to hold it! Snuggle up with your new favorite flavor and get cozy.
Go For Gourmet
Our Gourmet Popcorn fundraiser has the perk of being available as an online store, so participants can safely and easily run this fundraiser while socially distancing at home. At only $10 a bag, it's a super affordable fundraiser with a selection of seven different classic and creative flavors.
This fundraiser appeals to nostalgic taste buds with flavors like Cheddar Cheese, Chicago Style, and Classic Caramel, while kicking things up a notch with Rainbow Fruit and Jalapeno Cheese!
Perfect for selling anytime of year, the Gourmet Popcorn fundraiser has lots of versatility. Your group can pre-order bags of popcorn and sell them in conjunction with a summer fair, carnival, or movie night fundraiser. Or, pair it with another fundraiser, like snacks or cookie dough, and sell both for extra variety. (And just saying…popcorn and snacks go super well together in the same bowl!!)
Plus, both popcorn fundraisers are free to start and will earn your school 40% profit.
Points for Popcorn
As you can tell, we're big popcorn fans! As a recap, here are the reasons we think popcorn is a fantastic fundraising idea:
It's the perfect blend of sentimentality and trendy snack!
It's appealing to a diverse range of ages, who all have favorite memories attached to their favorite flavors.
Popcorn is delicious! Enjoy the flavors on their own or invent your own flavors.
Popcorn is versatile! Add nuts, add it to other snack mixes, or melt chocolate, marshmallows, or any other confectionary in with it.
It's affordable!
Popcorn has an interesting history filled with cultural anecdotes, so you'll have plenty of fun facts to dish up throughout your popcorn fundraising campaign.