We all know the old adage: when the going gets tough, the tough get going. A reminder that we can overcome hard things and the perfect caption for 2020. It's been a trying year to say the least, but not without its fierce display of tenacity, grit, and tough-as-nails seniors who are showing up and getting things going. Since early April, there's been a heartwarming movement in the non-profit fundraising scene all started by one man's charitable act.
Captain Tom Moore
As a veteran who served in India during WWII, Captain Tom Moore is no stranger to surviving tough conditions. In spring, when COVID-19 was wreaking havoc on Britain and its National Healthcare System, Captain Moore decided to do something about it. With the determination to raise funds for Britain's NHS, the 99 year old set out to walk 100 laps of his garden.
With his walker firmly supporting every step, Moore's goal was to finish the laps and raise 1,000 pounds before his 100th birthday on April 30th. But by April 20th, only six days after he began, Captain Tom Moore completed his walk-a-thon having raised the equivalent of $15 million in donations.
It didn't end there.
With the help of Michael Ball and the Care Choir, he released a chart-topping single with all proceeds going towards his cause. The veteran has since raised more than $33 million and, even more delightfully, inspired similar efforts in seniors at home and around the world.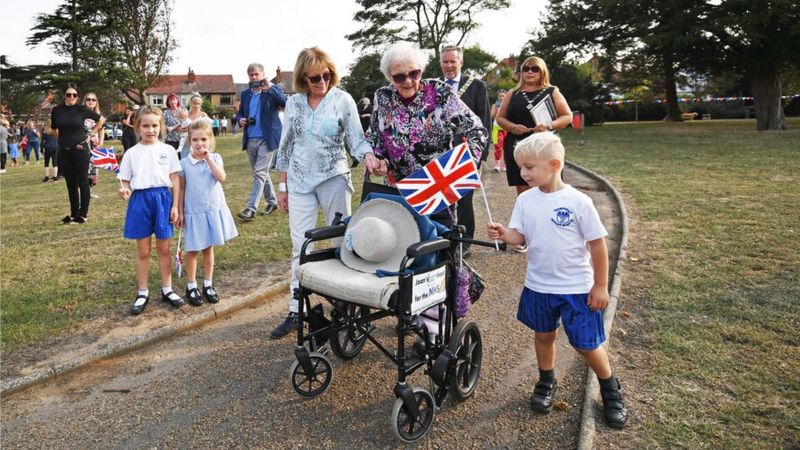 Joan Rich of Britain pledged to walk 102 laps of her local park before her 102nd birthday
Joan Rich
Not to be outdone by Captain Moore, Joan Rich of Britain pledged to walk 102 laps of her local park before her 102nd birthday. In early September she completed her goal. Pushing her wheelchair more than 35 miles and turning 102, she raised over $44,000 for Britain's NHS in which she worked for much of her life.
"It was enjoyable walking in the fresh green of the park, but hard work sometimes," Rich said. "One person can make a difference if they set a goal and persevere."
Like Moore, Rich also served during WWII. Stationed in Jerusalem, she nursed prisoners of war back to health as part of the Royal Military Police. Rich has said the sense of community spirit felt during the COVID-19 pandemic reminded her of that during war time.
Zinaida Korneva
In Russia, Zinaida Korneva's grandchildren showed her a video clip of Captain Moore and she decided to take action in her own way. The 97 year old WWII veteran is unable to walk long distances due to a bad hip and a pacemaker, but that didn't impede her resolve.
In 1942 at 19 years old, Korneva was one of the first women to join the Soviet Air Defense forces. She took part in the Battle of Stalingrad and also helped liberate Berlin from Nazi rule. Instead of walking to raise money, Korneva pledged to film herself every day telling war stories from when she served in the Soviet Union's anti-aircraft forces.
In a message to Tom, Korneva said "In 1945, we overcame facism together, and now we are fighting the virus together." Her daughter and granddaughter are both doctors and the funds she raised will go to families of Russian doctors who have lost their lives to COVID-19. In May, Korneva had raised the equivalent of approximately $41,000.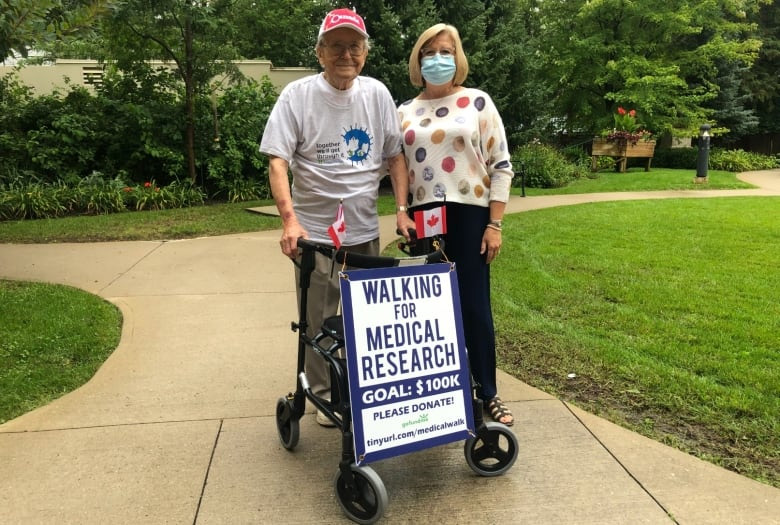 99 year old veteran George Markow compled 1,500 laps of his seniors' residence with his walker
George Markow
Not stopping there, Captain Moore's influence was also felt in Canada. 99 year old veteran George Markow cited Moore as his inspiration to fundraise for COVID-19 research and the Southlake Regional Health Centre Foundation's COVID-19 Action Fund.
During WWII, Markow was conscripted by the Soviet Union against his will. He spent two-and-a-half years as a prisoner of war, confined to an underground bunker. "You can't even imagine what the conditions were like in that prison camp."
Markow has raised more than $36,000 by completing 1,500 laps of his seniors' residence with his walker and his community supporting him each step of the way. His daughter Sylvia Perkins reported that Markow said to her, "after what I've lived through, this is a walk in the park."
Step By Step
The ripple effect caused by Captain Moore's hugely successful fundraiser doesn't end here. There are many more stories of senior citizens taking it step by step (or story by story) to raise money for healthcare systems, COVID-19 research, or women's shelters throughout the pandemic.
It's uplifting. It's also a reminder that we all have the capacity to persevere through tough times, and that some have had it tougher. We have the ability to fundraise for non-profits in our community with whatever skill or service we have to offer. It's a little reminder that no effort is insignificant and no step is too small.