We've all been part of a candy bar fundraiser at some point. $1 bars are a tried and true favorite, because, hello! At $1, ya can't go wrong. But did you know there are other $1 candy fundraisers on the market that make excellent alternatives to candy bars?
Oh – what's that you say – you've never heard of them? Well let us tell you about them!
Our Candy Coated Fundraisers
We get it: candy bars are delicious and is there ever a better excuse to stock up on a year's supply then in the name of fundraising? No. There's not. But at JustFundraising, we have some seriously delicious $1 candy alternatives to offer.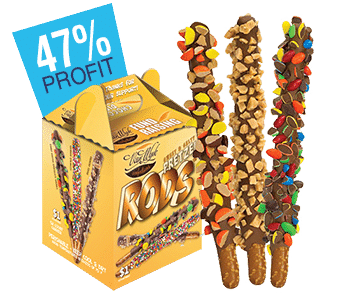 Let us explain. Basically, they're everything good in life stacked in one crunchy treat. They're salted pretzel rods dipped in milk chocolate and rolled in an assortment of mouthwatering candy. They're here to serve your chocolate addiction while providing your taste buds with the sweet and salty combo they desire. And, because we're feeling bold, they're probably your next fundraising idea and definitely your new favorite.
Pretzel rods come in four different delicious flavors: Peanut Butter Candy Crunch, Rainbow Sprinkles, Crunchy Toffee, and Chocolate Chunk. Each carrier case contains a variety of flavors, for a total of 60 rods per carrier case. There's four carriers in a mastercase, and your group just needs to order one mastercase to get started! And you get free shipping. It's a pretty great deal.
You might be thinking "But how can one person sell 60 rods?? That's a lot!" Here's the thing: because they're delicious and only $1 each, on average, supporters buy around 5 rods at a time. That's only 12 supporters to sell to. If each person sets up outside of a local business or at a local sports event (wear your masks!) then those 60 pretzel rods will be gone in a flash.
Quicker than you can shake a pom pom at.
And, if the candy coated pretzel rods weren't alluring enough, for a limited time we're offering your group 60% profit.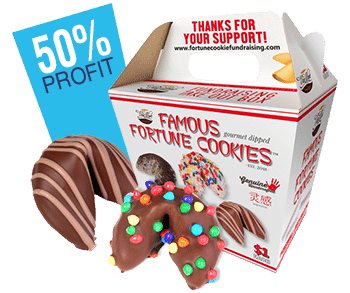 We can assert this with confidence because Famous Fortune Cookies are gourmet cookies dipped in premium chocolate and sprinkled with candy coatings. There's absolutely nothing not to love. Oh! And because they're fortune cookies, each one features an uplifting prophecy hidden within its sweet cookie shell.
An even sweeter deal? They come in four delectable flavors to the tune of Birthday Cake, Chocolate Bits, Cookies and Cream, and Salted Caramel. Yes puh-leeze.
Fortune Cookies come in a 60-piece variety carrier containing 15 of each flavor, and, as noted, priced at only $1 each. With this low price-point, you'll be able to sell them by the handful. And hey, maybe an extra generous supporter will scoop up a whole case in order to have the best purse candy on the block.
All you need to do is order one mastercase containing four carrier cases to get this $1 candy fundraiser started. Oh, and as with pretzel rods, we're offering 60% profit for a limited time.
Here's Why We Like Them
Candy is fun, but fun candy is the most fun. Are we right? There's something inherently joyful about cracking open a fortune cookie to read the prophecy tucked within its walls. And you can't beat a candy adorned pretzel rod. Not only are they absolutely drool worthy, they're also a pretty dazzling sight.
Both pretzel rods and fortune cookies make fun and creative party favors, stocking stuffers, and the coolest candy in the loot bag.
Need incentivizing classroom prizes? Check-check.
Special occasion treats? Yep.
The most insane toppings on your super extra birthday cake? You betcha.
There are endless uses for fortune cookies and pretzel rods – don't be afraid to remind your supporters of them!
$1 Candy = Good Tasting Change
Change is good, but especially when it tastes good! We know candy bars are a cult classic, but we recommend taking a walk on the wild side and trying one of our other $1 candy fundraisers this year. We're pretty sure you'll be happy you did.