We have a lot to say about candle fundraisers! We think they're an awesome fundraising idea and we have a selection of candle programs to suit your group.
But First, Did You Know…
…that the scented candle market has been booming for years and has actually grown even more during COVID-19!? We know, it sounds embellished, but people are truly buying scented candles more than ever before and the market's experiencing a rapid growth rate.
But really, it's no surprise. Scented candles are being used for aromatherapy, meditation, and overall relaxation—things we're all trying to get more of these days, with most of us being at home. Plus, they assist in creating a calming ambiance that helps our homes feel cozy and safe.
In fact, the mere mention of candles conjures feelings of warmth and nostalgia. Think of songs like "Somewhere In My Memory" from Home Alone, in which the first line goes "candles in the window", helping to immediately cast the sentimental tone of the song.
Candles transform a room from static to alive with the simple flicker of flame, evoking our visual and olfactory senses at the same time. They figuratively and literally provide warmth, while adding the tiniest bit of luxury to our homes!
If it's not obvious by now, we love candles and candle fundraisers. Here are some more reasons why!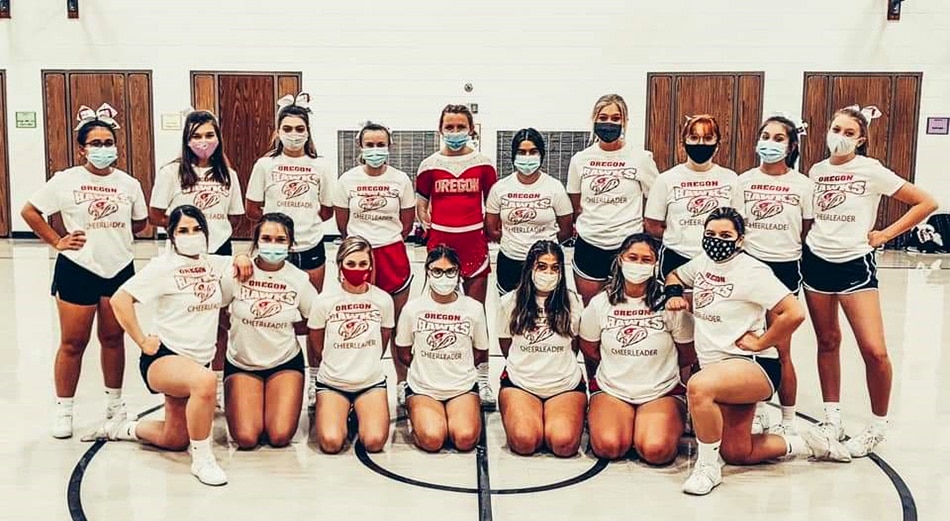 Oregon High School Cheerleaders Raised Over $4,000 Profit With Candles!
We sold quote candles to raise money to purchase new uniforms. As you can see we have the prototype in our picture. – Jody Mernack
Our Candle Fundraisers Offer VARIETY
Like we mentioned, we have a number of candle fundraisers for your group to choose from. Seven, to be exact! So finding one to fit your group and community's needs should be no problem, and almost all of them are available to sell online. Here's a look at a few of our favorites.
As our #1 selling candle fundraiser, Quote Candles feature an uplifting quote on each label and are suited for any and every fundraising occasion. Each 12oz candle is hand-poured in the USA with natural blended wax, and offered in a range of 8 comforting scents. Only $15 each, and your group earns 50% profit!
A similar fundraiser to our Quote Candles, Journey of Faith candles are the #1 choice of church groups. The only difference between the two programs is instead of inspirational quotes, J.O.F. candles feature biblical titles and verses, and a slightly different selection of aromas.
At only $10 each, this candle fundraiser features 6 popular aromas that are hand-poured in 8oz canning jars. It's a great fundraiser for a community with varied income levels or to pair with another product fundraiser, like cookie dough!
We Raised Over $2,000 Profit!
The Journey Of Faith candle fundraiser was great. Our church group was raising money for summer camp and we raised over $2,000 profit!
David
Candles Make the Perfect Gift
Candles make an appropriate gift for almost any occasion. Whether it's a gift for yourself (there's no better excuse than a fundraiser!) or for others, a candle is a simple offer that's always appreciated. Plus, almost all of our candles come packaged in a gift box, so you're more than halfway there!
Remind your group that buying a candle to gift to someone is a key selling point. Because of this, candle fundraisers are well suited for gift-giving holidays like Christmas, Mother's Day, Valentine's Day, and Easter.
P.S. the Christmas season may have just ended, but it's never too late to start thinking about next year! We have the perfect Holiday Art Candle Collection fundraiser for your group to check out for 2021.
Candle Fundraisers Are Versatile!
Pair It Up
Our variety of candle programs allows you to be more versatile with how you execute your fundraiser. For example, you could pair our $10 Candle program with another product fundraiser like cookie dough or popcorn!
Offering more than one item can often entice supporters to buy more. Maybe three candles feels superfluous, but a tub of cookie dough and two candles feels more reasonable.
At the very least, offering two different product fundraisers will give your supporters a choice, and a higher likelihood of them buying at least one thing.
Candle Party, Anyone?
Another idea is to host a candle party where supporters browse through candle catalogs over food and drinks in the comfort of someone's home. We're borrowing this idea from the iconic tupperware and candle parties of decades past, but these worked for a reason!
Not only do people feel more comfortable making purchases when they're with friends, they know they're being invited in hopes that they'll buy something to support your fundraiser. The end result is a fun and social evening, where you've made some sales and had a good time.
We recommend our Touch of Elegance III program for a candle party. Its gorgeous brochure offers a selection of 27 luxurious items, from diffusers to candles of every variety.