1) Baking Cookies: a Timeless Family Tradition
Cookies have always been synonymous with wholesome family time. So many memories are contained in those sweet circles of gooey goodness, that the mere aroma of a fresh baked batch can evoke nostalgic feelings of childhood bliss. But what is it that makes cookies so special?
Making memories to last a lifetime
More than any other food, cookies have a magic ability to bring families together. From learning from your older sibling how to properly dunk your cookies in milk, to helping cut out and decorate holiday sugar cookies, to finally being trusted with Grandma's famous secret recipe, there's something about baking cookies that says "home".
If you want to make lasting memories for your family, it's advised to start in the kitchen. It is well known that the sense of smell is closely linked with memory, more so than any of the other senses. This makes fresh-baked cookies the perfect add-on to family games or movie night. Plus, by baking cookies as a family, you're not only sharing a special moment together, you're leaving an indelible mark in your children's memories, ensuring that any ensuing whiff of oven-fresh goodies will lead their thoughts back to this special time with you.
Baking cookies together is a great teaching opportunity as well. Not only are you passing down recipes and know-how, you're also giving a lesson in math and chemistry, as well as in patience and cooperation. And don't forget family history: perhaps your mixing bowl is a family heirloom, passed down through generations; or maybe you have fond memories of baking with your own parents as a child. Teaching children to bake cookies is an easy way to positively shape young minds – with a sweet reward at the end.
The rise of premade cookie dough
While we all wish we had unlimited time to bake cookies from scratch on the regular, the reality is that most families have jam-packed schedules, with limited quality time to spend as a family. Premade cookie dough allows you to enjoy both the ritual of baking and the incomparable taste and texture of fresh-baked cookies, but in a fraction of the time.
This is part of what makes JustFundraising's cookie dough fundraisers such a huge hit. We offer a versatile range of products in varying formats, including dry mix, scoop-and-bake, and place-and-bake, to accommodate even the busiest of families.
Want to know more about what makes our cookie dough fundraisers the ideal choice for your group? Read on!
2) The Benefits of a Cookie Dough Fundraiser?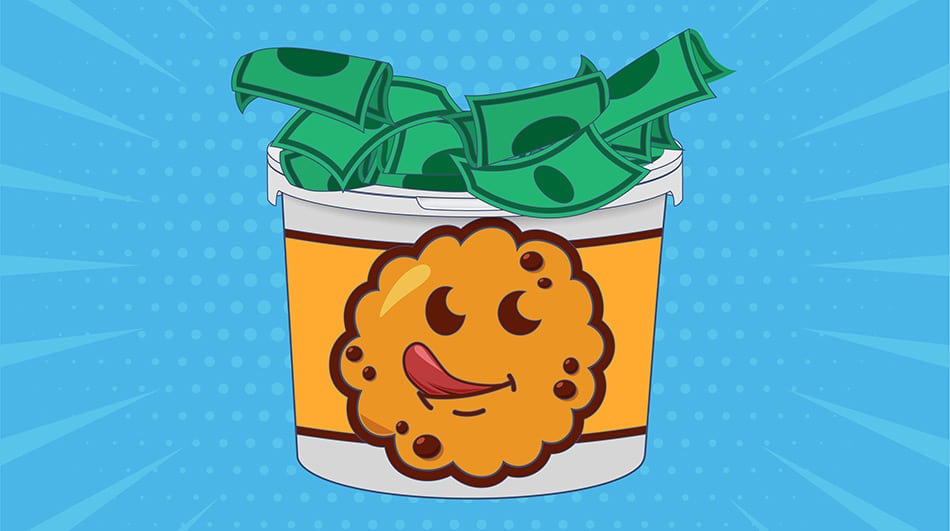 We've already gone over what makes home-baked cookies so special. But what are the benefits of choosing to sell cookie dough for your fundraiser? Let's take a look.
The most versatile flavors
Gone are the days of chocolate chip and peanut butter as your only options – although they do remain high on the popularity list. These days, gourmet flavors have taken over, with such heavenly concoctions as white chocolate oatmeal cranberry, caramel pecan chocolate chip, snickerdoodle, and many more. From purists to adventurous palates, there's something for every cookie fiend.
The highest profits
Our cookie dough fundraisers offer some of the highest profit margins in the business, with up to 55% of sales going directly to you. This means you have the potential to make up to $9.35 per product sold, allowing you to easily raise thousands of dollars for your school, sports team, church group, or charity organization.
And the more you sell, the higher the percentage of profit. JustFundraising's online calculator makes it a breeze to determine how many units each participant would have to sell to reach your goal, allowing you to better plan and execute your cookie dough fundraiser.
No upfront costs
You read that right. You can raise thousands of dollars without having to invest a penny. How does it work? Each participant is provided with a free color brochure, which they invite friends, family members, and neighbors to peruse and select items for purchase. For each order, participants collect money upfront. Once all your orders are in, you place your bulk order with us, using the funds raised to pay for the cost of the product, and the rest is yours to keep.
Long shelf life for extra convenience
When you place your cookie dough order, we deliver in one bulk shipment, meaning that your group is responsible for pick up or distribution of orders. This can take a bit of time, especially when you factor in everyone's busy schedules. The good news is that JustFundraising's cookie dough can be left at room temperature for up to 21 days, giving you a bit of breathing room to coordinate getting orders to your supporters.
Our cookie dough can also be kept frozen for up to one year, giving your supporters a reason to order even more!
The most affordable cookie dough fundraiser out there
Our most deluxe cookie dough is already priced lower than the competition, at $16-$18 per unit. But we know that this can still be a stretch for many of your supporters, especially with today's uncertain economy. That's why JustFundraising is proud to be one of the only fundraising companies to offer $10 cookie dough fundraisers.
Your supporters still get the same great taste and variety of flavors in a 2-lb tub, but at a much smaller price. This is a great option for those who live in a mixed-income community, as a lower minimum price allows you to reach more buyers, while those who are able to may choose to purchase more items.
Shipping is on us
Any order above 150 units receives free shipping, meaning you get to keep even more profit! And reaching 150 products is easy as pie – or cookies, rather: if your fundraiser has 30 participants, each person would only have to sell 5 items to get free shipping. We call that a win.
3) Cookie Dough Fundraisers in a Contactless World: What's the Scoop?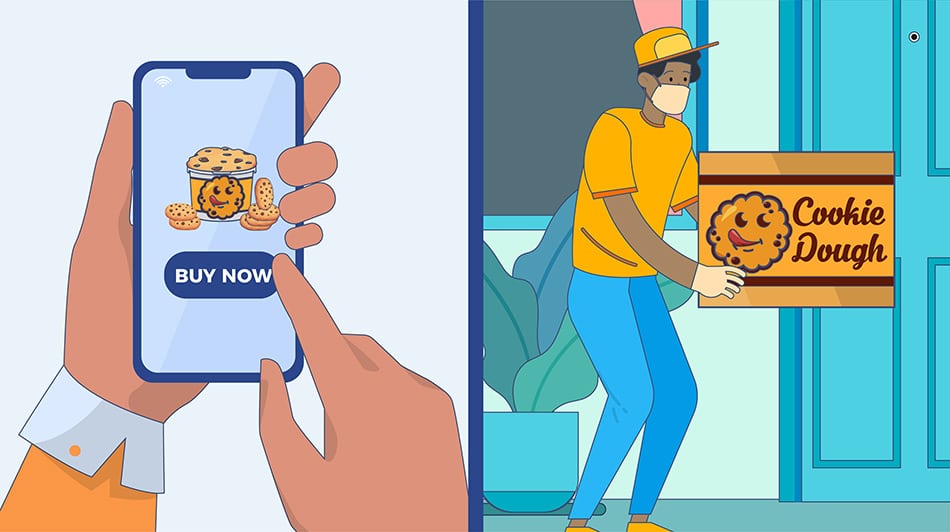 Almost every industry has had to reshape the way it does business to reflect our new social distancing reality, and the giving industry is no exception. JustFundraising has taken their most popular and successful fundraiser online to offer a safe and contactless way to raise funds while giving supporters what they want: sweet, sweet cookie dough.
iRaiseMore.com is the safest, easiest way to have your friends and family support your cause with the click of a mouse, right from the comfort of their own home.
How does our online cookie dough fundraiser work?
Your group gets its own custom page on iRaiseMore.com. Participants can share the link via email or social media, inviting friends and family to make their purchase online. Buyers are asked at checkout to enter the name of the individual they are supporting (this allows sellers to get credit for their personal sales and maintain eligibility for any incentive prizes).
Once the transaction is complete, the money gets deposited into your group's account. At the end of your fundraiser we'll send you an invoice and a profit report, so you can see just how much your group raised.
How do our supporters get their cookie dough orders?
Your order will be shipped to a predetermined location within two weeks. From there, depending on your preference, you can either coordinate driveway drop-offs, or set up a drive-by pick-up location for safe, contact-free distribution.
Fundraising is not only still possible in a socially-distanced world, in some ways it's even simpler, if you make use of online resources and social media. JustFundraising is here to make that transition safe and easy.