For years, selling Gourmet Cookie Dough has been the most popular and effective way to raise funds for thousands of schools and teams. Well now, JustFundraising has made it even easier! We can provide your group with your very own ONLINE Cookie Dough Store. In these times of the COVID-19 situation, having your own online store will give your group the option to raise funds SAFELY, while keeping your social distance.
You now have the option to sell via your Online Store and/or using your Order-Taker!
How Does It Work?
1)Request Your FREE Cookie Dough brochures online:
When you order your free cookie dough brochures, we will create your custom online store on our iRaiseMore.com platform. It will feature all cookie dough flavors available. Sell online or in-person!
We will EMAIL you the unique web address to your free online store (Example: www.iraisemore.com/all-stars).
We will also MAIL you your free Cookie Dough order-takers.
Note: Your order-takers come labeled with your Online Store web address and QR Code. Your supporters can simply scan it and make an online purchase with their credit card.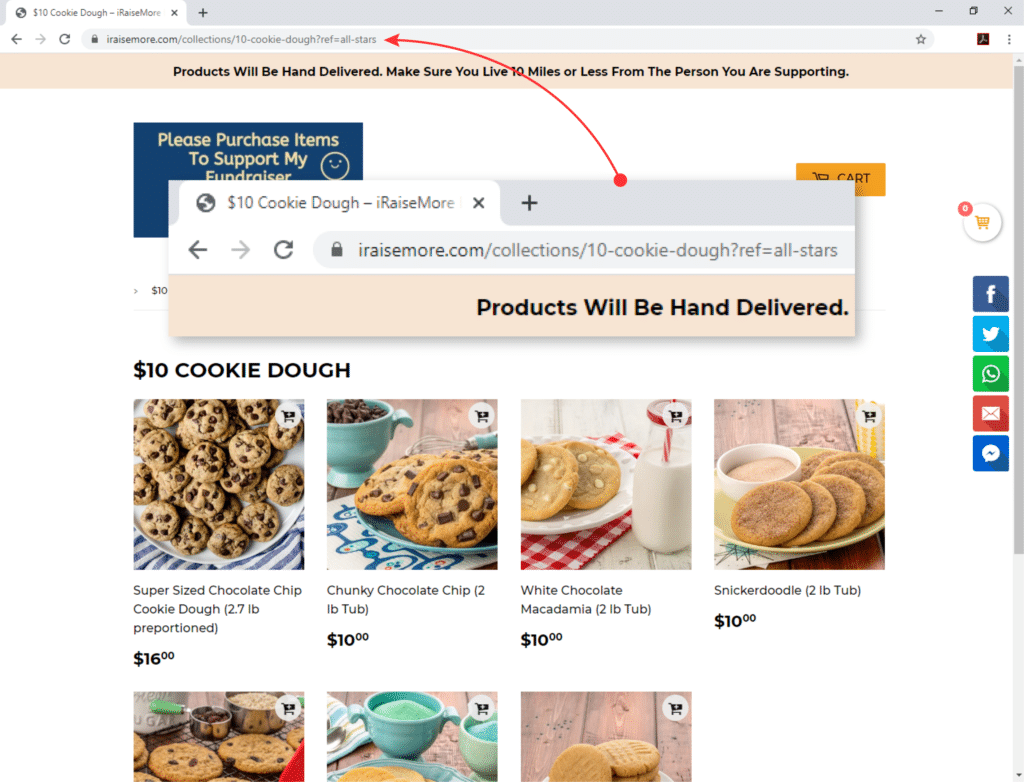 2) Communicate To Your Group Members (Let's get everyone on the same page):
Have an in-person or Zoom meeting with your your students, players/parents or members. Let them know WHY you need to fundraise, what is expected from them and how they will benefit from the funds raised.
Email your group members the link to your Custom Group Page, and if rules permit, provide a copy of the physical cookie dough order-taker.
PLEASE COPY PASTE the following and email to your group members:
Hi,
We've created an Online Store for All Stars to help us reach our fundraising goal. We've indicated it on every Order-Taker (generic example below):
To help reach more supporters and raise our funds more quickly, please SHARE our online fundraising page with LOCAL friends, family and co-workers:
https://www.iraisemore.com/all-stars
The link and our QR code are also on your Order-Taker. Also, If your supporters don't have cash on hand, they can quickly pay online.
Important:
– SHARE LOCALLY ONLY. You must be able to hand-deliver these items to your supporters. All items will be shipped in bulk to our group, not to your supporter.
– There is a $.50 fee per item purchased online to cover the credit card processing fees, so that it doesn't take away from our fundraiser profit.
3) Your Sellers Will Share:
Share your Online Store with friends, family and co-workers, using email, text and Facebook.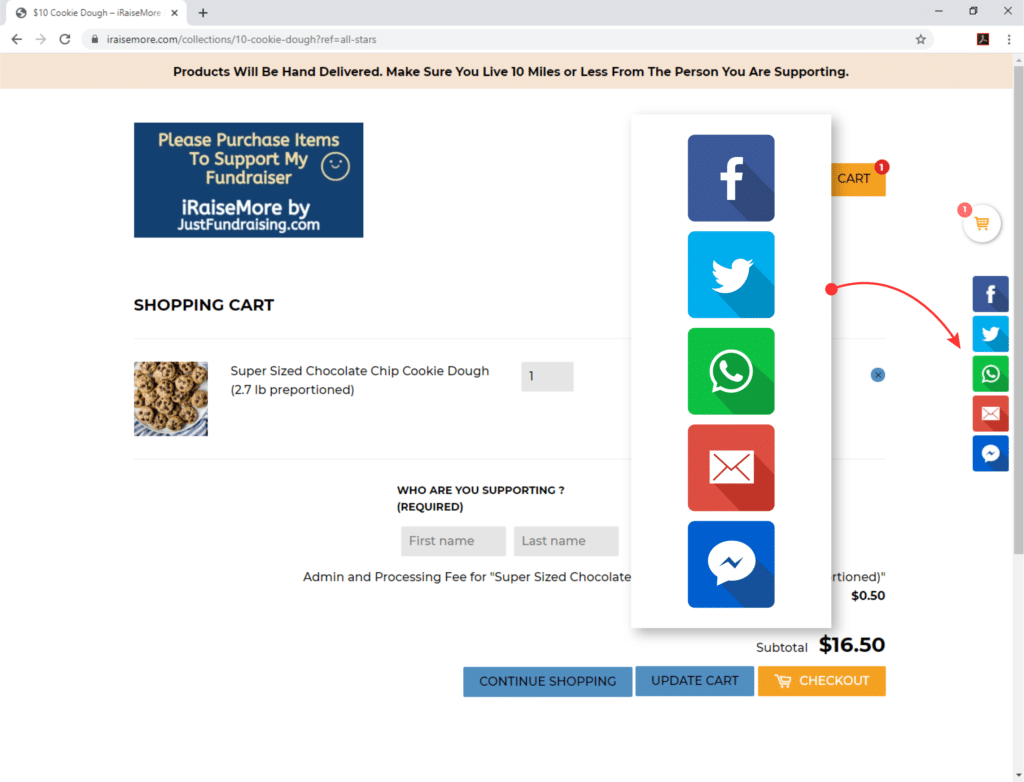 4) Your Supporters will BUY To Support You:
In your store, your supporters will be able to order one or more cookie dough flavors and pay using their credit card. In the Checkout, they will specify which of your members they are supporting, so we know which seller will hand-deliver the product, WHEN your group or school is back in action.
IMPORTANT: Make sure your supporters live within 10 miles or less so your members can hand deliver the products.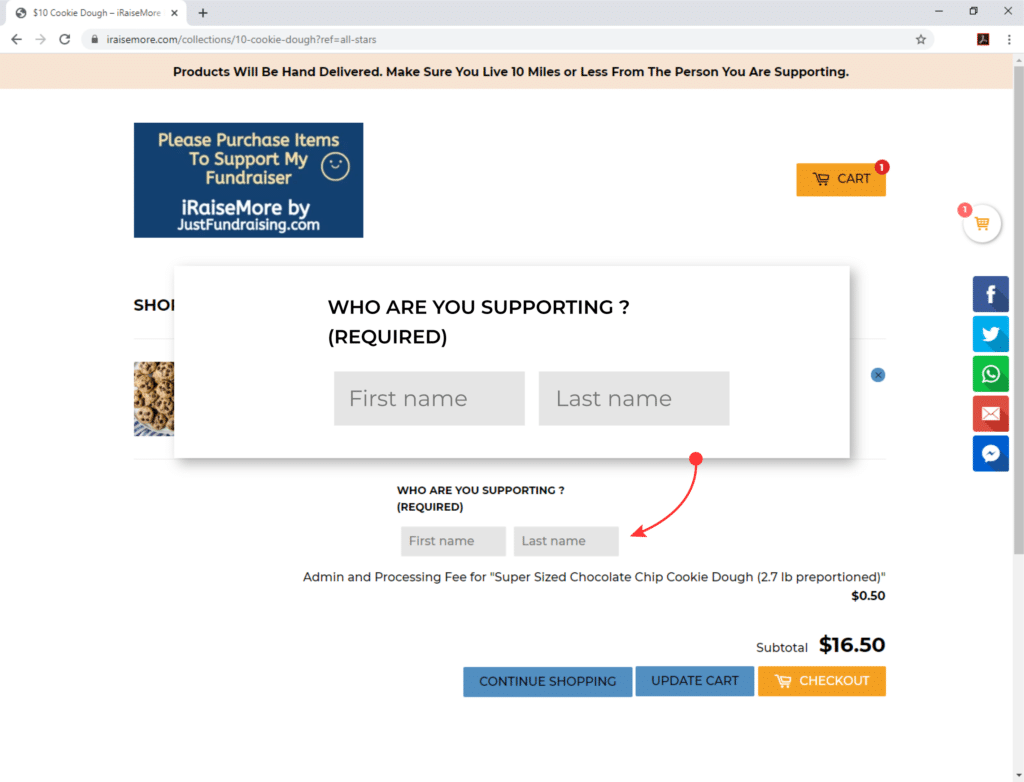 5) At the end of your fundraiser:
We'll send you a detailed report for the products sold online and we'll make the adjustments needed in case you also had Order-Taker sales.

6) We will ship all your cookie dough items to one destination:
It takes 10-14 days for delivery. If your school is closed, we can ship it when it re-opens or ship to another destination. Some schools and sports leagues are setting up a drive-by station where group members can drive by and pick-up their cookie dough without getting out of their car or being in contact with anyone.
IMPORTANT: You must HAND-DELIVER these items once it's safe again, so please only email/text people who are LOCAL. We do NOT ship directly to supporter's homes.
Questions? Call us at 1-888-440-4114