In 1969, the CROP Hunger Walk in Bismarck, North Dakota, became one of the very first charity runs in the U.S.
Now almost fifty years later, charity runs, marathons, walks and color runs are more popular than ever.
But often, they can be quite expensive to enter. While short 5Ks and color runs have entry fees close to $30, most half marathons or marathons have a fee of $100 or more. Longer races and well-branded charity runs have seen a price increase of about 34% over the past 6 to 10 years.
For a casual runner who doesn't often compete, these one-time entry fees might not hurt your budget too much. But if you love to run for a cause, you'll need some easy and effective marathon fundraisers that can help fund your passion.
Some Charity Run Fundraisers Require $5000+ Entry Free
Then there are big races such as Run for the Cure and Team in Training that have massive fundraising requirements for their charitable causes. In 2020, runners often have to raise $5,000 per team via fundraising efforts to join their charity run. Some charities are asking for even more.
The Boys & Girls Clubs of Dorchester is asking $7,500 per runner. Trinity Boston Connects is asking a minimum of $8,500 and The New England Patriots Foundation has a minimum of $10,000 per runner.
Runners determined to compete even if when they're missing a small portion of their fundraising target, often put the difference on their personal credit card. They may incur a little personal debt but it's often worth it to them because they're supporting a cause that's near and dear to them.
But if you're determined to race no matter what and want to ensure you reach your fundraising goal, consider the following tips and fundraising ideas for your charity run.
Tips to Successfully Raise Money For Your Charity Run
Don't be afraid to ask for big amounts. It's okay to ask for $100 or more from any given donor. Many of them will donate what you ask for, or at the very least give more than they previously would have donated.
Start early. To raise $5,000 for the Boston Marathon, you'll likely need 70 to 80 individual donors donating at least $70 each. Generally, racers who start fundraising seven to nine months before race day raised more than those who start later. Even still, expect most of your donations in the four months before your race.
Add an incentive. Some people, particularly if they don't know you or your cause that well, like to feel like they're getting something for their money. So if you can sell fundraising products, or create another incentive, you're more likely to get a donation.
Be personal. Let people see you, and let them know why your cause matters so much to you. People like people, so be human with them.
6 Creative Marathon Fundraising Ideas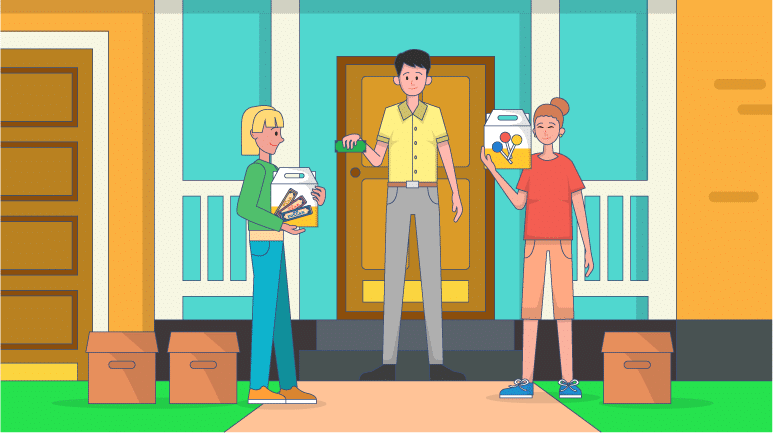 If you're raising a large amount for the Boston Marathon or similar, you'll need to use a handful of different tactics. Here are some ideas to get you started.
1) Ask for Donations
Simply asking for donations can be a great way to start! Create an online fundraising page like GoFundMe or a similar site to get you started. Then regularly post updates so people can track your progress.
Make sure to share it on all your social networks. Let your friends, family, and colleagues know about this amazing challenge you intend to conquer. Ask them to share it as well.
When you set up your fundraising page, don't be afraid to be personal. Let your donors know why your cause matters. Even if you don't hit your fundraising goals this way, you can spread awareness for a good cause.
2) Sell Fundraising Products
Similar to fundraising for any other school or team activity, you can sell fundraising products to help pay for your charity run entry fee.
With JustFundraising, you can order as little as one case of fundraising treats at a time. Such products may include easy and quick selling treats like candy bars, lollipops, pretzel rods and even Jack Links beef jerky sticks.
Our order-taker options mean you can start selling fundraising products such as gourmet cookie dough, popcorn and candles with absolutely no money down. Simply take orders from your supporters while collecting funds on the spot, then place your order with JustFundraising. Two weeks later, you'll hand-deliver your items sold.
Selling fundraising products is a great way to encourage people to support your cause who otherwise wouldn't be swayed to contribute.
3) Hold a Face Race
Is a friend or coworker joining you in the race? Hold a face race to raise funds and spur friendly competition.
Cut out pictures of the faces for any racer competing, and plan a map of the racecourse. Then ask for donations to see which face can reach the finish line first. For example, $10 will move a racer forward a mile, but $20 will move a racer back a mile.
Post regular updates on your social media feeds, and get friends and family excited about the competition.
4) Play Tag – Unique and So Much Fun!
For a $75 entry fee per player, one Boston Marathon runner, Kurt Nelson raised funds for his charity with a giant game of tag.
The game lasted for two weeks. All tags had to be documented with a photo or video, and there were no tag backs. There were also no play limits and no safe areas. At any point in time, players were at risk of becoming "it."
For a competitive, active group, this fundraiser was an absolute blast! Nelson repeated it the following year, and the year after that switched to a Survivor-esque competition. Each week, one person would get voted out, but they could buy re-entry with another donation. The winner gets a cash prize (percentage of the overall money raised) or a generous sponsored prize.
5) Be Willing to Be Awkward, or Suffer – People Pay for Laughs!
Come up with a creative idea to do something weird, or do something that might not be comfortable. One runner had friends donate $10 to add a song to a playlist he would listen to while training. Bonus points for recommending the worst song imaginable.
Other runners have done competitions that put their physical appearance at risk – like a shave or no shave contest. Parties can donate into different buckets to either cut off all your hair or leave it intact. Moms, dads, and significant others might be heavily invested in keeping your hair on your head.
Still, other runners will train in a costume of choice for donations.
The point is, come up with creative ideas that can encourage people to donate. Maybe you have friends who are willing to drop $50 each or more to see you run 5 miles in a homemade burger costume. Capitalize on that.
6) Host a DIY Event
DIY Event fundraisers have always been a great way to raise funds, especially if there are fellow runners you can partner with. This will take a lot more coordination and organization upfront, but it can be a great way to raise funds for charity. Pair it with a silent auction, a trivia night with entrance fee and cash reward, or some of your other DIY fundraising ideas to maximize your contributions. Consider organizing your event via a Zoom meeting to reach more people and have them donate online.
Smaller Budget? Consider Joining Other Runs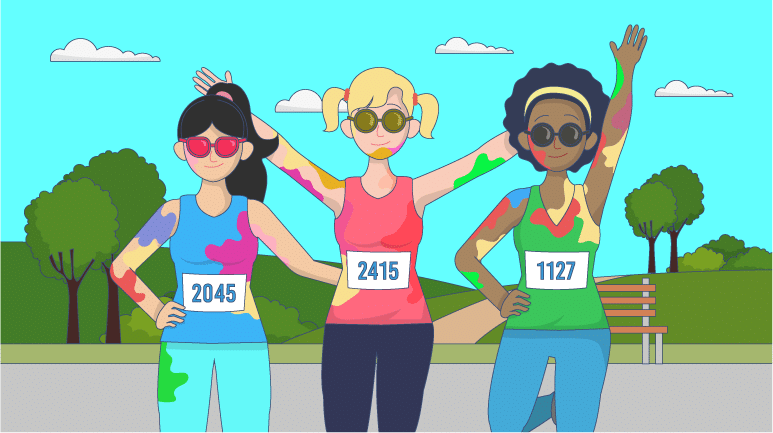 If you want to join a charity run fundraiser, but don't have the time or means to raise a huge sum of money to cover the entry fee, there are other options.
5K Charity Runs
Short runs like a 5K for charity usually have much smaller entry fees and smaller investments on your part. Most 5K charity runs have entry fees close to $30. This is a great way to go for a run and contribute to a good cause.
Since 5Ks are much smaller events, don't expect too much fanfare or pomp and circumstance around the race. Keeping pomp low helps your charity keep more of the money they raise. Have fun, and know you're participating for a good cause.
Join a Color Run or Fun Run
Color Runs or other Fun Runs like a Turkey Trot are creative ways to get more members in the community involved. People get excited for a twist on a classic 5K. They often cost only $20 to $50 to enter.
Color Runs, Turkey Trots, and the like can have more of an upfront investment to put on thanks to the extra supplies  required in order to make the event happen.
So if you want to support your cause, go ahead and bring along some extra cash for concessions, merchandise, or donations for the cause.
Pick Your Charity Runs Carefully
Not all charity runs are created equal. If you want to make your donations stretch, do your due diligence before signing up for a charity race.
See if you can find out how much of your money goes to the cause, and how much gets caught up in overhead or other fees. Feel free to contact the company and ask any questions you might have about the quality of your donation. If they won't answer, be wary.
Or, if participating in the race isn't as important to you as the cause, maybe skip the race and instead donate directly to the organization.
Use these Fundraising Tips to Help You Run for a Cause
Charity races are a great way to help nonprofits come up with funds for crucial research and development, as well as equipment, supplies and activities. When you have a big goal to hit, the marathon fundraising ideas we listed above can help you reach your objective. Sell products, host events, or come up with creative ideas to get people to support your cause.
Remember, do your research when you're running for a cause to make sure the charity makes the most out of the money it raises!