Despite the challenges that COVID-19 has presented, cheer and dance teams are steppin' up and bringin' the pep! Cheerleaders and dancers are no strangers to resilience, and teams across the USA are pivoting in new directions to keep the spirit alive and their goals of competing in national championships on target. Read on for JustFundraising's best dance and cheer fundraising ideas to help your team slay with another successful season.
New Changes To Cheer and Dance
In the wake of the pandemic, many teams have made the leap, jump, and handspring from the gym to online, where weekly rehearsals and cheer camps are in full swing. Even virtual competitions will have teams uploading their routines to Varsity TV in hopes of winning a bid to the coveted Summits.
For dance and cheer teams who are able to practice together, strict regulations are in place to ensure everyone's safety. In some cases, routines are being adjusted to meet social distancing guidelines and varsity teams' seasons are being delayed.
With many new hurdles to overcome, meeting to discuss fundraising ideas for cheerleading or dance teams could easily be overshadowed by more pertinent tasks. But as those of us familiar with this world know, the expenses add up quickly and organizing your fundraising strategies ahead of time is important.
A Pyramid of Costs
Each season brings a round of familiar expenses, such as uniforms, warm-up gear, gym and competition fees, to name a few. However, as teams transition online amidst COVID-19, new and unexpected costs arise. Teams who plan on competing virtually will need to purchase synchronization rights to the music they use for their routines. Without this, online performances will be muted.
Transportation becomes an extra expense as well. Varsity squads travelling with their school's football team may need to help raise funds for additional busses to meet social distancing guidelines onboard.
And of course, protective face masks, disinfectant, and a healthy supply of a hand sanitizer is an additional must (and cost) no matter what.
Cheer Fundraising Ideas To Meet Your Goals
All star and varsity activities might look a little different this year, but with no fewer expenses on the agenda, and competitive cheerleaders and dancers commonly paying between $1500 – $5000 to participate each year, choosing the right dance or cheer fundraiser is critical.
Luckily, JustFundraising has the perfect options to pump up the funds, and to help your team sell it both on and off the court!
1. Cookie Dough
2. Custom Face Masks
3. Scented Candles
4. Snackin' In The USA
5. Famous Fortune Cookies
1) Gimme a C-DOUBLE-O-K-I-E-S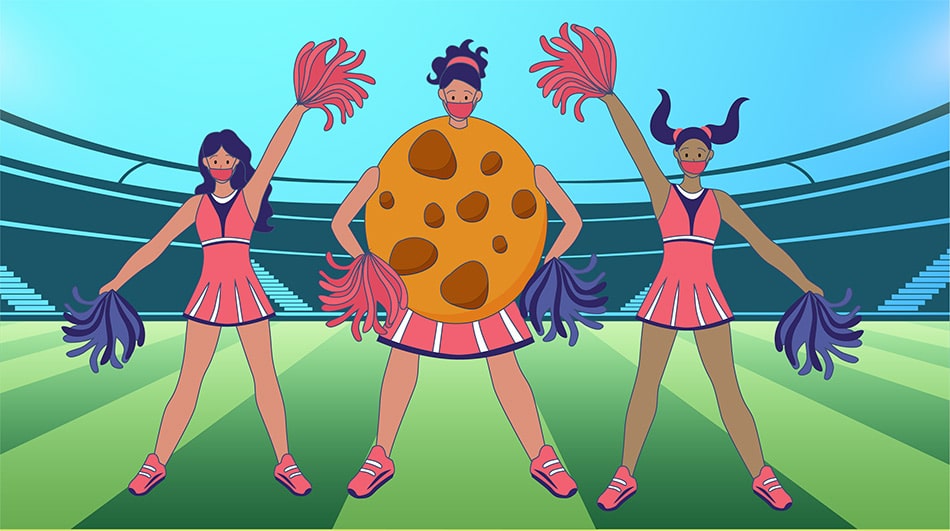 What does that spell? Cookies! At JustFundraising, we offer a variety of Cookie Dough Fundraisers at competitive price points, making cookie dough one of our most popular fundraisers! Choose from gourmet dough in decadent flavours like mint chocolate chip and pumpkin pie spice, affordable $10 cookie dough tubs, extra large cookie dough tubs, and preformed dough that's already shaped and ready to bake!
A Proven Favorite
Cookies have been a beloved favorite for centuries and are now a staple in American households. In fact, the chocolate chip cookie is an American invention, first created by Ruth Wakefield of eastern Massachusetts in the early 1930s! Cookie dough fundraisers have truly stood the test of time and nothing captures childhood nostalgia like the unmistakable and irresistible aroma of cookies baking in the oven.
High Profits, Low Risk
Another reason cookie dough fundraisers are a sweet choice is because they're simple to run, a big income generator, and they don't require any investment up front. From the money made through cookie dough sales, your team pays back the cost of the product and you keep the rest for profit. Then we ship the product to you, and your team members distribute the cookie dough to their generous supporters.
Take Your Dance or Cheerleading Fundraiser Online
JustFundraising has also made the pivot online and our new virtual cookie dough fundraiser is a safe and stress-free way to raise funds. We create your team an online store at iRaiseMore.com, and they share the custom link with friends, families, and supporters via text, email, and social media with a little note of appreciation. At checkout, buyers are prompted to enter the name of the person they are supporting, as a way to keep track of sales for potential prize eligibility.
2) Spread Cheer Instead With Custom Face Masks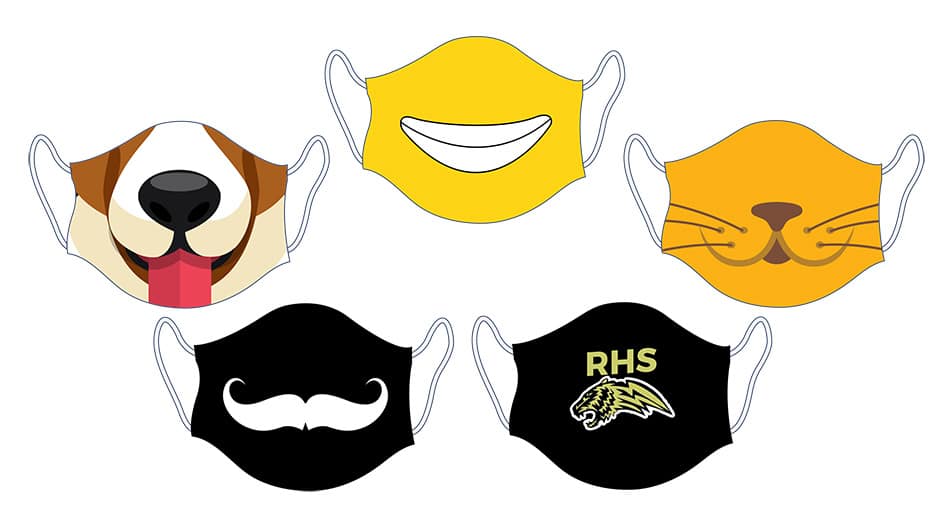 Face masks are a must right now, and just like socks and undies, there's no such thing as too many masks. Our Custom Face Mask Fundraiser is a relevant, health-conscious way for your team to raise money, while encouraging your community to look out for one another.
Why Custom Face Masks Are A Good Fit
The best thing about our Custom Face Mask Fundraiser is that we'll print your team's name and logo directly on the masks, making it equal parts fundraising and team-building! Selling custom face masks is a fantastic way for your cheer squad or dance group to keep team spirit alive in the community, at school, and amongst themselves, especially if they're not able to physically be together as often as usual.
If your team is able to perform in front of spectators, selling face masks is a great opportunity to gently remind supporters to "have their masks ready" at the next game or competition.
Keep Your Cheer Fundraiser Playful!
Along with spirit boosting masks emboldened with your team's logo, our fun selection of prints like the goofy grin, the cartoon mustache, and the cat and dog nose will inevitably spread a little cheer. The bedazzled rhinestone options are hard to resist, but if low-key is more your taste, we also offer a variety of solid colours.
How It All Works
Our masks are $15 each or sold in threes for $39, a helpful option that caters to different income levels. They also come in adult and child sizes and are conveniently machine washable. We'll set your team up with an online store, and all they have to do is share the shop's custom link with friends and family and thank them for their support! Supporters can make their purchases from the online shop, and after 2-3 weeks of fundraising, we'll ship your team's orders to one location.
3) When We Say "Scented" You Say "Candles"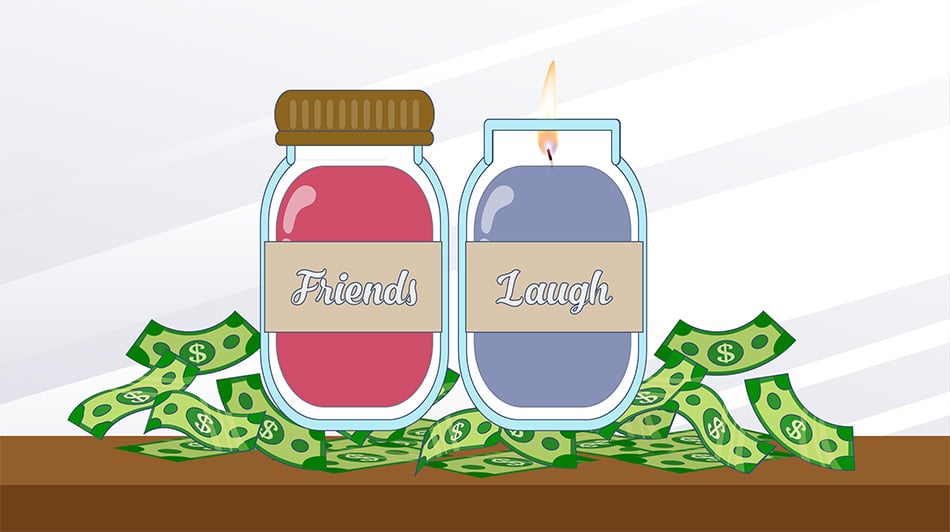 In the age of COVID where we're all part of the Stay Home Club, many of us are trying to make our abodes as cozy as possible. Right now is the perfect time to organize a candle fundraiser to help people create a tranquil ambiance at home with these feel-good items. Luckily, JustFundraising has a wide variety of candle fundraisers to choose from.
Let's Get a Cheer for Quote Candles
A great cheerleading fundraiser idea is selling Quote Candles. As our top selling candle fundraiser with no up-front costs, it's a safe and sound option for meeting your financial goals. Quote candles are made from premium blended natural wax and are hand-poured with uplifting quotes printed on each label, wafting a little positivity around the room. With scents like spicy Baked Apple Pie and soothing Lavender Mist, each candle boasts a 75-hour burn time of your favorite aroma.
Quote candles also make wonderful gifts! Each candle arrives packaged in a gift box, so encourage supporters to buy candles as presents for upcoming birthdays or holidays.
Sell Online or In Person
JustFundraising will set you up with a virtual store so you can safely and easily run this fundraiser online. But if selling in person is preferred, we'll send your team a set of beautiful order-takers with professional photos of each candle.
4) Snackin' With The Squad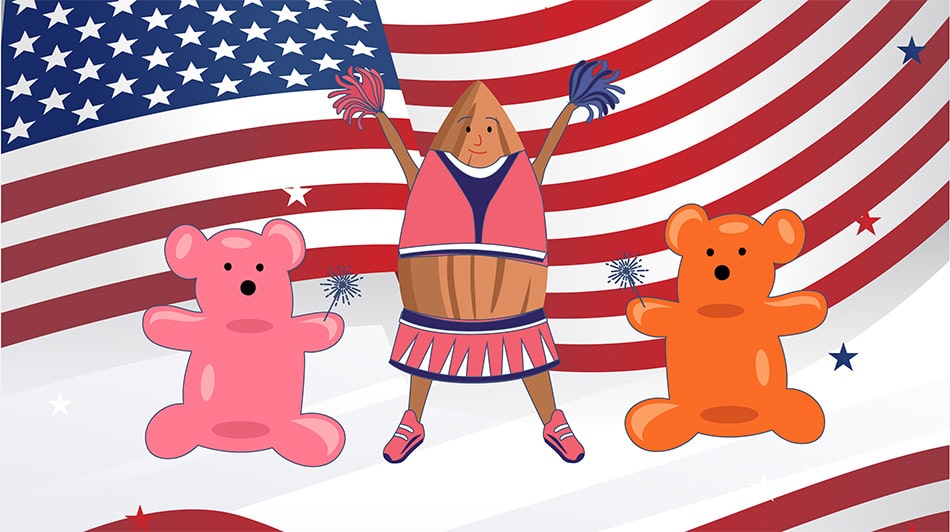 The pandemic has rendered us helpless to the sheer vice of snacks. Sometime between March and May, snacks became the most important meal of the day. Everything from chocolate covered almonds to gummy worms have made their way into our meal plans, and there's no slowing this snack attack down.
Pack a Snack
Besides our collective penchant for the sweet and salty, every dancer and cheerleader can hear their mother's voice as they leave for rehearsal yelling, "did you pack a snack?" Cheerleaders and dancers know the importance of a mid-rehearsal fuel up, so it couldn't be more appropriate for your team to run a snack fundraiser!
Sweet and Salty and Very On Budget
JustFundraising's Snackin' In The USA offers a wide variety of 20 different delicious snacks, from a savory cashew mix to chocolate malted milk balls. The best part is, there's no upfront costs and all items are just $8 per bag making it a great dance or cheerleading fundraising idea to accommodate a variety of incomes and tastes.
Keep It Safe and Simple
As with all our new virtual fundraisers, we create your team an online store and they share their custom link with their supporters via text, email, and social media. Supporters buy online and we ship your snack orders to one location, ready for your team members to distribute accordingly.
5) Nothing Says F-U-N Like a Fortune Cookies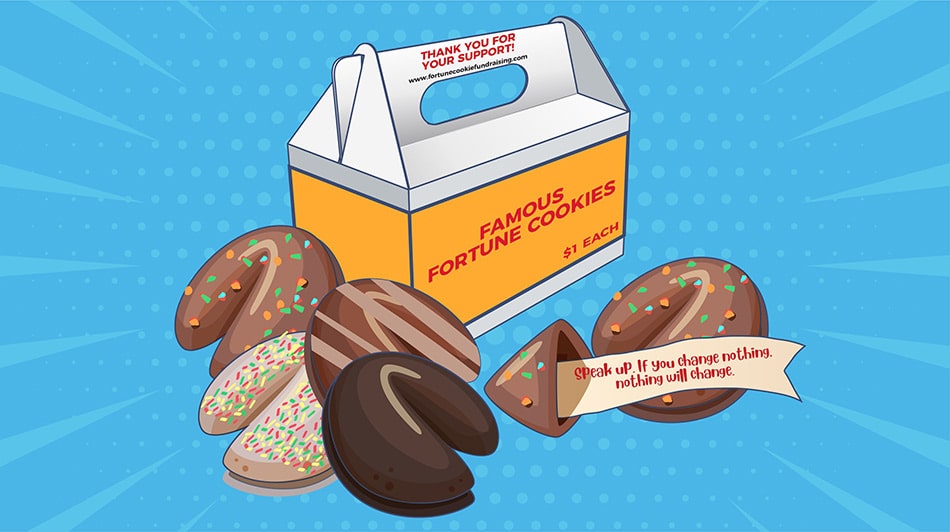 There's something inherently joyful about cracking open a fortune cookie to read the prophecy hidden within its subtly sweet shell. Generally, the flavour of the fortune outweighs that of the cookie, but in the case of JustFundraising's Famous Fortune Cookie Fundraiser, this is simply not true.
A Delicious Fundraising Idea for Cheer
Our fortune cookies are delectably delicious and the ultimate treat that is both sweet and playful!  Dipped in premium chocolate with candy coatings, our gourmet cookies come in four mouthwatering flavours: birthday cake, chocolate bits, cookies and cream, and salted caramel. Plus, an uplifting fortune tucked away in each cookie makes them irresistibly fun.
$1 Per Cookie!
Cookies come in a 60-piece variety carrier containing 15 of each flavor, priced at only $1 each. With such an accessible price-point, selling in sets of 5 or 10 is very achievable and who knows? Maybe an extra generous supporter will scoop up a whole case as a fun surprise for special events.
Can I Hear You Say "Cheer Team Fundraiser!"
Usually reserved for the after dinner tradition at Chinese food restaurants, a fortune cookie for any other occasion feels like the best kind of rule breaking. Cheer and dance teams will have no problem selling these affordable treats to classmates, friends, family members, and all of their other supporters! All you need to do is order one mastercase (containing 4 carrier cases) to get started.
Bring a brochure to your next fundraising meeting.
Please note: because of the nature of this fundraiser, there is not a virtual store option.