Are you new to Boy Scouts or have you recently been assigned the task of finding new boy scouts fundraisers for your troop? Well, as you probably know, the Boy Scouts of America's long and rich history spans over 100 years. The organization was founded on teaching our youth ethical decision making and moral values that will benefit them for a lifetime.
Given this rich history, fundraising needs to be approached with a well thought out plan to ensure that it meets the standards that were laid out by the organization's founders.
Therefore, you need to be very selective with what you choose to sell, and need to make sure that it falls in line with the fundraising guidelines established by the local council such as selling fundraising products that offer value to your local community.
We understand these restrictions and we have put together some fundraiser suggestions from feedback we have received from scout units all across the country, to help your fundraiser be as successful as possible.
So where do we get started? Finding the best fundraising ideas for your Cub Scouts, scouts BSA members or Venturers, will always start with a solid plan. Therefore, start by scheduling a date and time to meet with your planning committee and analyze the unit's activity calendar and necessary budget.
What Does Our Scouts Unit Need Funds For?
Field trips, special activities and camping trips will be the major staples of your fundraising efforts. Don't forget that the next jamboree is only a year away, so fundraising will be more important than ever.
Things like transportation, equipment, and activity fees quickly add up so it's important to factor in every little detail of your activities.
Calculate the average cost for each activity so you can give your unit a solid goal to work towards. Once you have a clear goal, it's time to figure out what your unit should sell or organize for your fundraiser.
What Are The Best Fundraisers For My Boy Scouts?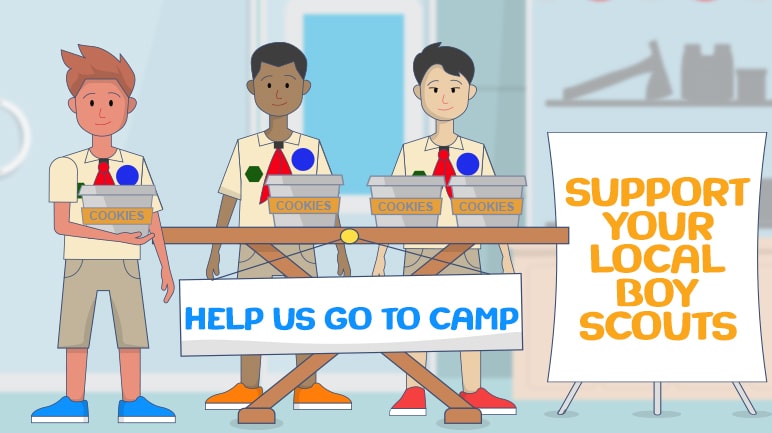 The fundraiser that you choose to sell can make or break your fundraising campaign. Units in close areas often compete for the same customers so it's important to provide something that will stand out.
When planning your fundraiser, it's beneficial to take a look at things that have worked well in the past for your unit, but also remember that your supporters may get tired of the same old products.
JustFundraising offers a diverse selection of quality fundraising products that gives you variety, and assures that your customers are receiving good value for their hard earned money. Here are some of our most popular fundraisers that scout units have had great success with in the past.
1) Gourmet Popcorn Fundraiser:
Popcorn has always been a staple when it comes to boy scouts fundraisers, but supporters may get tired of the same selection of flavors and format.
Luckily, our Gourmet Popcorn is far from the same old. Offer your supporters 7 unique flavors such as Rainbow and Chicago Style. Along with tried and true best-sellers like Cheddar and Classic Caramel. Each bag sells for only $10 and your unit keeps $4 per bag sold.
2) Sell Flower Bulbs:
Planting trees and adding green to local communities is a long standing tradition of the boy scouts. The first tree planting project was held in 1914, since then the boy scouts have planted over 80 million trees across the country!
Carry on this important tradition with our Art In Nature Spring Flower Bulbs. Make a solid 50% profit and help your community get ready for gardening season by offering our selection of 30 flower bulbs and seeds.
The Flower Bulb order-taker includes: Sunflowers, Lillies, Orchids, Strawberry and Tomato kits and much more. Best of all, each bulb and seed kit is guaranteed to bloom.
If your supporters are getting tired of the same old trails end popcorn, then our Snackin' In The USA fundraiser is just what you need. Offer your supporters a variety of 20 sweet, salty and savory snacks for only $8 each.
This order taker is packed with favorites such as gummi bears, chocolate covered pretzels and cashew. Your unit will make 50% profit, so you will keep $4 for every item you sell.
4) Cookie Dough Fundraiser:
Girl Scouts aren't the only ones that can sell cookies. Cookie dough is always our best-seller and has proven to be in demand at any time of year. Whether you're looking for tubs or pre-portioned cookie dough, we have options in a variety of price points.
Our Crazy About Cookies fundraiser has been our best-seller for over a decade. Your scout unit can make up to 55% profit while offering your supporters 10 different flavors of cookie dough at $16 each.
Have your unit combine cookie dough with your annual Christmas tree sales for the perfect holiday fundraiser.
5) Candy Bar Fundraisers:
The classic one dollar bar. Have your unit set up a booth at a local community event and watch the customers line up. Better yet, utilize a fundraising event such as a spaghetti dinner and offer the bars as a tasty treat for desert.
Each case includes a total of 240 bars, divided into 4 carriers of 60 bars. Your troop can make up to 50% profit on the sales.
6) Sell Pretzel Rods:
If you'd like to add something different to your candy bar sales then our Pretzel Rods are the perfect option. Offer your supporters 4 sweet and salty flavors for only $1 each and make up to 47% profit.
Each case of 240 rods is divided into 4 carriers of 60. Flavors include: Peanut Butter Candy Crunch, Rainbow Sprinkles, Crunchy Toffee and Candy Coated Chocolate Chunk.
7) Jack Link Beef Sticks:
The official protein snack of the BSA and official sponsor of the Entrepreneurship merit badge. Offer your supporters a tasty and nutritious protein-filled snack that comes from a name they already trust.
Each master case comes with 400 sticks and is divided into 8 carrier cases of 50. These hearty and healthy sticks sell for only $1 and make the perfect snack for camping trips or hikes.
Proven DIY Fundraising Ideas For Boy Scouts
Helping out in the community is a long standing tradition of the scouts. If your unit doesn't want to limit itself to selling quality product fundraisers then there are many other projects and events that you can utilize to raise some funds.
Here are just a few options that units have used in the past that have shown to be financially rewarding.
8) Food Events:
One of the best ways to get your unit out in the community is to throw a food event. Everyone loves a home cooked meal, and the cost to host an event is very low.
Pancake Breakfasts are a perfect example of a low cost fundraiser that brings in tons of support. Charge $3 per individual and $10 per family, and make it all you can eat! Scheduling your pancake breakfast in conjunction with local events such as Christmas parades will help you get even more support.
But you don't have to stop at just pancakes. Units across the country have used all kinds of things like spaghetti dinners, fish fries and BBQ box lunches to add some variety to their food events. Local merchants are usually more than happy to donate supplies to lend their support, meaning more profit for your boy scouts unit
9) Christmas Fundraisers:
The holiday season has proven to be the most profitable time to fundraise. People are getting into the giving spirit and there are tons of options to help your unit raise some funds.
Selling Christmas trees, wreaths and bows is an excellent opportunity for your unit to provide something of value to your community that individuals otherwise need.
In addition, you can turn it into a fun activity by hosting an evening where your unit gets together to make the wreaths from loose Christmas tree branches and then sell them at a later time.
10) Car Wash:
Pick a nice sunny day and get your unit set up at a church, local merchant's parking lot where there's significant visibility and traffic. It's a great way to let your community know that your unit is here, and ready to serve the local community.
Advertise through your town's Facebook page. Also, have a few unit members make signs to advertise the car wash and direct supporters to the parking lot.
Have a few adult scout leaders on-hand who can help supervise the quality of the car wash, funds and safety.
You'll quickly find out that this can turn into a fun team building exercise that your unit members learn a lot from.
11) Garage Sale:
Another great way to get your unit out in the community. Simply distribute fliers around your neighborhood to gather items of value that could be enticing to potential customers. Add a little twist by including unique crafts that your unit members made on a crafts night. Any unsold items can be donated to local shelters or rescue missions.
Cool and Unique Ideas for Scouts Fundraising
Despite the specific guidelines for fundraising, always remember that making your campaign as fun as possible will help motivate your group and encourage your local supporters. Check out a few of these unique ideas that have helped units across the country raise a ton of money.
12) Cake Auction:
Have each member bake and decorate a cake with their family. To add a little fun you can draw themes for each cake design from a hat.
Make it an event! Invite friends and family and hold a "silent auction." Simply place a bid sheet next to each cake. During the evening, everyone can write down their bids and then you can announce the winners at the end of the night.
13) Recyclable Product Collections:
This is a tried and true fundraiser for Boy Scouts that has been perfected by Cub Scouts over the many years. Your Scouts simply leave a flyer on doorknobs around your neighborhood. Indicate on the flyer the date for people to leave bottles and other recyclable materials on their front porch for pick up. After that, ensure you have troops ready to sort the bottles, cans and other goods into categories, and get them ready for refunding!
Not only are you providing a service for the community, but you'll be doing something that helps the environment. Some scouting units have raised over $2000 in a day with this!
14) Scout Shows:
Put on a show for your community and show them just how fun being a scout can be! Simply ask for donations upon entry, and set a minimum donation amount of $5.
Shows put on by local units give your members the opportunity to show off the skills that they do best. Best of all, your community can witness first hand, the fun and educational activities that scouts participate in. In addition, it can serve as an opportunity for recruitment.
Whether it's skills competitions, talent shows, or even the opportunity to sink a scout leader in a dunk tank. These shows will bring a sense of pride to your unit and will also serve as motivation to other children that might be curious about enrolling as a scout.
15) Scouts Workshop Fundraiser
Workshops are also a great way for your older boy scouts to flex their leadership skills and demonstrate what they've learned while also raising money.
Put on a "how to build a birdhouse" night and invite your community to a fun evening to get crafty. Have your supporters make donations upon entry, set a minimum donation amount of $5 per individual and $10 per family.
Don't Forget Why Scouts Are Such a Successful Fundraising Machine!
The scouts have always been a highly regarded organization in local communities across the country. Local service projects, and the countless years of community service has built a trust that should not be taken for granted.
So having your unit involved in the community will be one of the biggest reasons individuals won't think twice about lending their support during your fundraising campaign. Local service projects will pay dividends when it comes time to raise money since you will get to know the locals in your town that much better.
Since all fundraising efforts are done to benefit the unit as a whole, supporters don't have to think twice about where their money is going. This is one of the biggest reasons the boy scouts are so successful at fundraising.
The transparency for scout fundraising projects encourages community participation. Specific details such as transportation costs, campground fees and meal plans give supporters an extra sense of reassurance that every little bit helps.
Fundraising efforts must meet the specific guidelines provided by the organization's founders. These stringent guidelines ensure that any scout fundraiser is sure to offer something of great value in return which will further solidify the trust between your unit and local community.
What Other Fundraising Advice Can My Unit Learn From Other Scouting Troops?
Fundraising doesn't have to feel like an obligation. Therefore, if you can find an idea that gets your group motivated, and peaks the interest of your community, then you're already on the right track.
Be original with your fundraising efforts. For instance, many units choose to sell popcorn, so if you can offer something that is unique and offers great value then you can stand out from all the other school and team fundraisers in your community.
Don't forget that character development is the foundation of being a boy scout. Fundraising with your unit reinforces these core principles and gives them the opportunity to learn leadership and practice team building exercises. This will allow your scouts to grow together and reach their full potential as the future leaders that we know they can be.