How long we were going to be stuck in rolling lockdowns and suffering from pandemic anxiety was unclear at the onset of COVID-19. The potential for years of social distancing, mask wearing, and distance learning loomed large. However, against all odds, scientists were able to develop vaccines at record speed, and the light at the end of the tunnel is visible at last.
One of the most affected groups of this period of isolation were students. At a time in their lives where social interaction is crucial and craved, they've been asked to limit contact with their peers. In fact, many students haven't seen their friends in months, and Zoom classes nowhere near make up for the social-development advantages of attending school on campus.
Students should pack themselves on the back for the resilience they've shown during these turbulent times. And hopefully by the end of the school year, they'll be able to celebrate with a collective "WE DID IT!"
The upcoming end of the pandemic is the perfect time for students to commemorate the weirdest school year on record while raising money for a future that looks brighter than ever. And there's no better way to do that than with a t-shirt fundraiser.
Why Hold a School T-Shirt Fundraiser?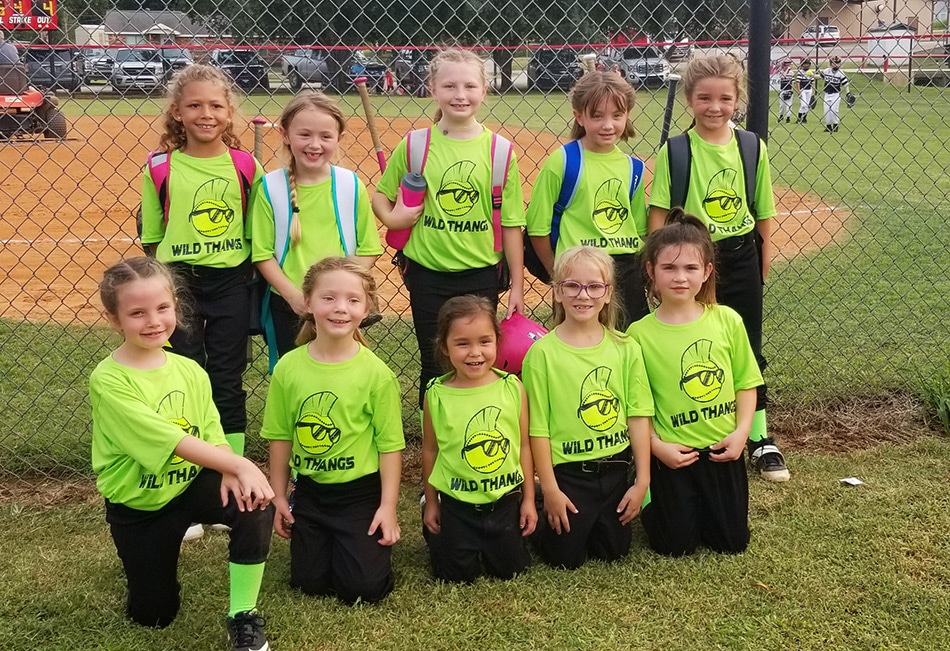 Wild Thangs Softball Team
Why do students need to fundraise if everything has been put on hold until after the pandemic, you might ask. Here are a few reasons for raising money today:
The return of sports. School sports are set to make a huge comeback once the pandemic is under control. However, it's likely that funds have dried up since the start of the pandemic. You'll want to get your team on the field and ready to battle it out as soon as possible.
Prom or graduation. Things have been moving at such a quick pace that it's not unreasonable to think prom and graduation might be greenlit this spring. It's better to have money and not need it than to have to scramble for funds at the last minute. Students deserve a proper celebration more than ever as soon as it's safe to do so.
A celebration for teachers. The real MVPs during COVID times are the dedicated teachers who had the difficult tasks of creating compelling Zoom lessons, teaching through layers of PPE, or simply being a source of comfort and stability for anxious kids. They deserve a HUGE thank you. Your fundraising spoils would be well-spent celebrating these often-underappreciated heroes.
Community support. The pandemic has been devastating for many underprivileged groups, and it might take a while for them to bounce back. Reliance on food banks is at an all-time high, for instance, and people are struggling to make rent and car payments. School fundraisers present a wonderful opportunity to help those in need get back on their feet and enjoy a brighter future.
Create a Powerful Memento That Your Students Will Treasure Forever
While people may be anxious to turn the page on COVID and forget it altogether, it's an important chapter in our collective history. The memories that we should hang onto are the times we worked together, supported each other, and helped each other through.
This is what your school t-shirt fundraiser should focus on: the lifelong bonds that were forged, and our ultimate victory over the virus. A simple message like "WE DID IT!" along with your class' name and year is impactful and effective. Or maybe a cheeky "BYEEEEE 2020-2021". For a grad shirt, you might show artwork of kids in gowns tossing face masks into the air. Now's the time to let your students get creative. Not only might you get some great ideas, it'll help them process the experience in a healthy way.
How Does a T-Shirt Fundraiser Work?
Running a school t-shirt fundraiser couldn't be easier, especially with JustFundraising. Here's what you have to do:
Create your design. Send us a PDF of your artwork and we'll get back to you with a mockup of your t-shirt.
Select your t-shirt style. Choose your t-shirt fabric and color, as well as any ink colors you want to use.
Collect orders. We'll send you a PDF of your free brochure that you can print and distribute to sellers. Still on lockdown? No problem! Simply send the file to your supporters or post it to social media and collect their orders electronically. Technology: isn't it great?
Place your bulk order. We'll ship your items to you within 1-2 weeks or receiving your order.
Distribute. Coordinate pickup or delivery for your t-shirts. Make sure to keep sizes organized!
This past year has really driven home the idea that we can achieve anything if we work together, and that includes reaching your school fundraising goals. Let's face the brighter days ahead together – and in style!