Running a baseball team just takes a couple of bats, a baseball helmet, a spare glove or two, and a volunteer coach, right? Er, no not exactly.
While costs range depending on whether you're running an adult team or a youth team like Little League, running a baseball team isn't cheap. Costs will vary. Depending on how professional you want your team to look, you may be able to skip some steps. 
But other areas, like insurance and registration fees, every team needs to prepare for. So when you're running a baseball team, make sure you budget and plan for the expenses, listed below. In addition, make sure you prepare a line-up of profitable baseball fundraisers to ensure your season is a success!
1. Field Permits
In each season of 24 games, each team is responsible for covering field permits and time slots for the games scheduled at home. Each team will have 12 home games and 12 away games, which means you'll have to cover field permits and fees for any scheduled home games.
Many teams own their own fields and won't have to cover field permits, but that's not always the case. Sometimes if most of the teams are in the same town, the town will waive field fines, but again, not always.
Typically it can cost between $100 to $150 for a 3-hour time slot for the game. Night games can cost an extra $75 for lights. These fees go to maintaining the grounds to ensure teams can continue to use them for years to come.
And unfortunately, many towns need you to have your permits in place by February. In addition, it might be hard to get the fields you need when you want them, so reserving an extra field can give you more options.
For 12 home games at $150 a game, it's safe to budget $1800 just for field fees.
2. Baseballs?!
You need balls for practice and balls for the game. You need enough balls that each team has enough to practice catching and throwing, pitching and hitting, and you need backup baseballs when balls get lost, damaged, or stolen.
The price of balls will vary depending on the brand you use. The most reputable brands are Rawlings and Diamond, which can run $50 to $75 per dozen.
Adding team or league logos to baseballs will be an additional cost, and can take up to 3 months to get to your team. With that in mind, it's better to buy ahead of time and have extra than to run out in the middle of the season.
Of course, if you don't need high-quality balls, like for a minor league or no-stakes, casual rec team, you can save some money by opting for lower quality, cheaper balls.
Generally, plan for 10 dozen balls for each team, and about 20% overstock, just in case. This runs about $750 per team just for balls.
3. Umpires
It's safe to budget $90 per umpire per game. Then budget an additional $10 assigning fee for each game an umpire is assigned to.
So if you have 12 home games, budget $120 for the assigning fee, and $1080 for each umpire on the field for the season.
4. Team Insurance
In many towns, you can't get a permit for a baseball field if you can't prove your team is insured. Fortunately, this is only about $150 per team.
5. Administrative Expenses
Often, these are covered by the league themselves, and not on a per-team basis. But they're worth considering. These can be costs like website maintenance, taxes if the league is for profit, groundskeeping equipment and maintenance, helmets and team uniforms, or field supplies like bases.
Most often the team themselves won't have to cover these expenses, but they may have to pay league fees that chip in to help cover them.
6. Parent Expenses
When a kid signs up for a sports team, their parents are often left to cover expenses. These can include uniforms like t-shirts, cleats, and baseball gloves. But they also have to cover their child's transportation to and from some games, or chip in for post-game meals or snacks.
It's estimated parents spend between $200 to $500 a month per child on their children's sporting activities. Some parents can spend $1000 or more, especially if they seek out professional trainers for their children. Now, obviously that can change based on whether it's recreational or travel team baseball.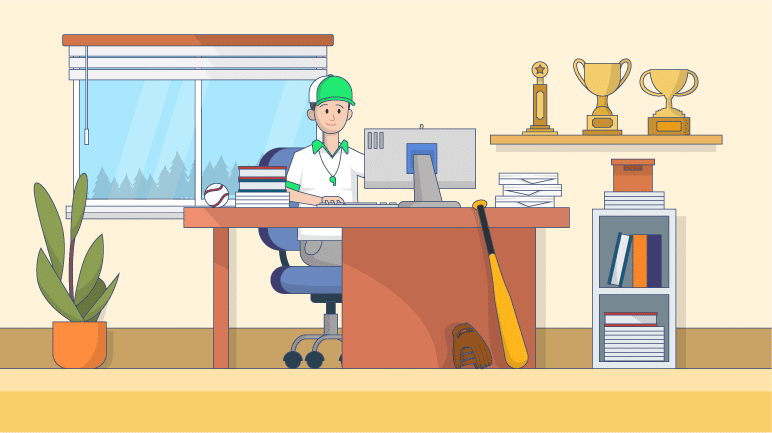 All in all, each team should budget at least $3900 to keep the team running throughout the season. Expect this number to go up with more umpires, or if the team wants to sponsor an end of season celebration.
Additional costs can include things like away travel, which can run about $3000 or more for a tournament, depending on bus rental prices and hotel fees. 
$3900 per team is a minimal general starting budget. You can get a better number by talking to previous league coaches, or your community sports administration. Find out your specific prices for your area, and plan a budget. By starting in January or earlier, you'll be able to plan your team's budget with plenty of time.
Plan Your Budget
If you know you'll be running a baseball team, start your budget in January, or even earlier. Find the specific numbers you need for your local team. 
Know how many home and away games you'll be playing and need to budget for and plan whether or not you'll need to cover any travel expenses for the team, which can eat up a huge chunk of your budget. 
If you're lucky, you'll have the budget from previous years you can go off of. The more data you have, the more accurate you can make your budget for the upcoming season, and avoid mistakes of the past. 
Once you get these numbers all in place, plan how much you hope to get from registration fees, which will be your most predictable factor. That will let you know how much you still need to raise with fundraising or concessions. 
From there, you can hopefully predict concession revenue based on previous years' results. The remainder can be planned to raise through fundraising. 
The sooner you start to plan your budget, the less likely you'll be surprised with unforeseen expenses.
How to Cover Your Team's Expenses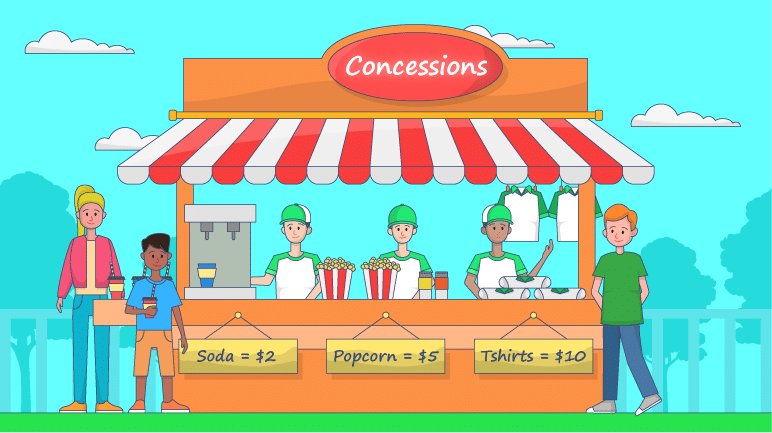 Not many people have $4000 or more laying around just to start a team for a casual baseball league or run their travel team. 
So when you want to join a league, there are some things you can do to offset the costs for your team. 
Player Registration Fees
One of the best ways to offset the costs for your team is player registration fees. However, if you set them too high, it can deter your team from getting enough players to sign up for your team in the first place. 
But if you properly plan a budget and you can divide that per player, you can figure out how much each player registration fee needs to be to cover some expenses. 
Sell Quality Fundraising Products
Fundraising is arguably the best way to get the money you need to run your baseball team this season. Below are a few team fundraisers that can help but please be sure to check out our full-line-up of top baseball fundraisers.
With JustFundraising, you can raise funds off specific products to help you keep your team afloat. We have high-quality products that your supporters are sure to love. 
Candy Bars and Pretzel Rods: These $1 items are a true delight. Your supporters will often buy them by the handful. The candy bars are tried and true and the pretzel rods are a new addition that's wowing taste buds from coast-to-coast! What's great is the minimum order is only 1 case and you always get free shipping.
Cookie Dough Fundraiser: Cookie dough is that one fundraising product that's so good, that when you're done baking up the tub of dough, you're ready to buy another one. So even if your local school has sold it, you're still good to go with JustFundraising's popular Crazy About Cookies cookie dough.
Snack Fundraisers: Our order-taker called Nuts About Sports includes a variety of fresh nuts and snacks that are spicy, sweet, salty and sour – a true mix to keep all your supporters happy! They sell for only $8 each and your baseball team keeps 50% profit, so it's a real grand-slam choice!
Jack Links Beef Sticks: These protein sticks sell for only $1 each. Perfect to sell at your games, at your concession stand, or at the office place and between friends. A simple inexpensive snack to keep your supporters going.
You can encourage friendly competition in your ball team by offering prizes for the most amount raised in the smallest amount of time, or similar thresholds.
Online Fundraising
You can start a GoFundMe page for your team, and share it on your social networks. You can also ask each member of the team to hit specific fundraising goals to help you keep the team running for the season. 
GoFundMe is great because you get to keep 97% of the money raised, and it doesn't take too much marketing effort to get a great return!
Raffles
Raffles are a popular favorite among communities. People like the idea that they can win something of far greater value than the costs of their tickets. 
You can ask for businesses in your community to donate items to the raffle to keep your initial costs low and maximize the profit from the raffle. You can also run the popular 50/50 raffle where the winner gets 50% of the total amount of ticket sales. Most communities do need a permit, however; make sure you inquire about the legal requirements.
Concession Stands
At each game, you can run a concession stand with drinks and snacks or team memorabilia to raise money for your team. You can use JustFundraising products like popcorn and snacks to help maximize your profit. 
Different laws will regulate what you can and can't offer at a concession stand, so make sure to check with your town to ensure you follow all local laws.
Baseball Isn't Cheap, but The Right Fundraising Ideas Will Help!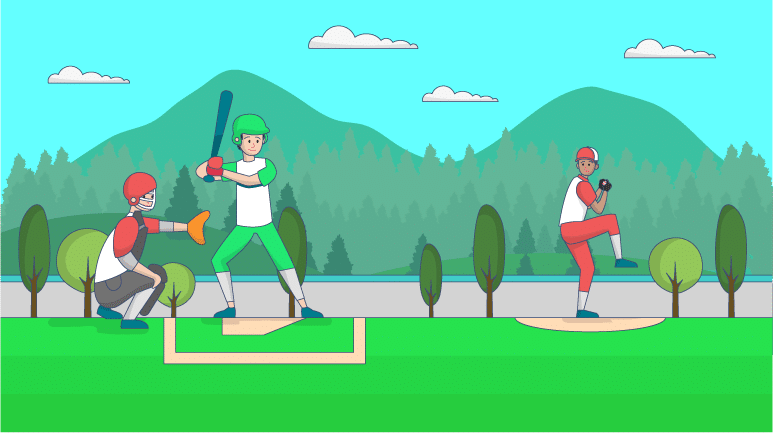 From insurance to registration fees, transportation, training equipment and supplies, and a big season blowout party, you'll probably need to budget a minimum of a couple of thousand dollars for your team. 
Look to the fundraising ideas listed above to cover your costs. Ensure whatever fundraiser you choose, you implement well and with conviction.  
Considering fundraising for your baseball team? Check out our product catalog here.