Team Up With JustFundraising To Help The Humboldt Broncos.
On April 6, an unthinkable tragedy happened that took the lives of 15 boys and men, as well as one lady, the team's athletic therapist Dayna Brons. It also injured another 13, many seriously, and forever changed the lives of their families and community.
JustFundraising wants to help facilitate raising funds for the families that were victims of the bus crash on April 6. We are making our Donation Scratch Cards available completely FREE OF CHARGE, so that teams can use them to request donations, which they'll then donate 100% to the Humboldt Broncos GoFundMe campaign.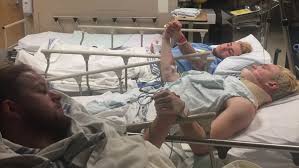 Yes, they've surpassed the initial goal of $4 million, but many of these boys and the families of lost ones, will be going through physical and mental therapy for the rest of their lives. Every dollar counts and will be put to so much good use in helping these boys and families get back on their feet.
GoFundMe for Humboldt Broncos 1 of top 5 largest campaigns across the globe
Here's How Your Team Can Help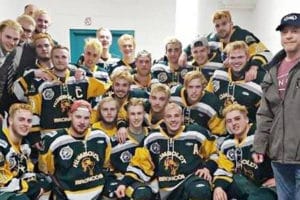 1) Decide if your team would like to support the Humboldt Broncos fundraising efforts.
2) If so, have a team leader contact JustFundraising at 1-888-440-4114 and request your free pack of 5 Donation Scratch Cards (will raise a total of $575 in donations), which we'll ship out to you within 24 hours.
3) Collect Donations: With permission, in a monitored environment, such as your local hockey arenas, have your team players request donations using the Donation Scratch Cards. We would recommend you do this fundraiser as a blitz over a one or 2-hour period, with your teammates working in groups of 2's or 3's. Parents or coaches can also bring the Scratch Card with them to the office place to raise even more.
Note: Do not let children fundraise door-to-door without a parent.
4) Your team fundraising leader will collect all of the donations made using the Donation Scratch Cards. They will then use their team or personal credit card to donate that full amount on the Humboldt GoFundMe page.
Visit Humboldt Broncos GoFundMe Page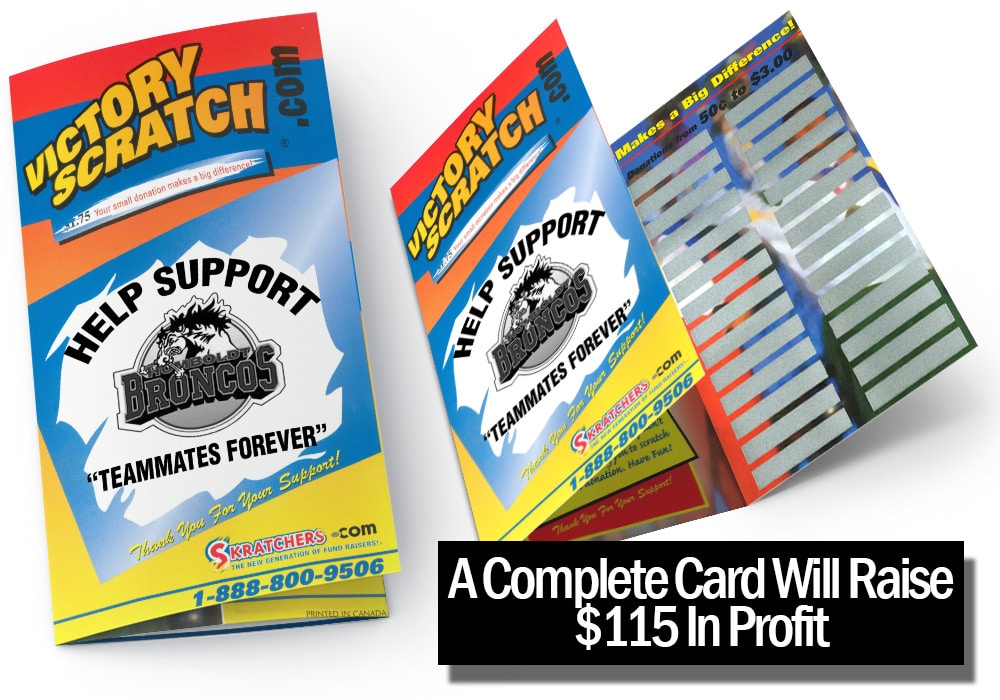 How Do The Donation Cards Work? Easy…
Each Scratch Card has 56 scratch offs. Under each scratch off is a donation amount between $0.50 and $3.00, as well as an inspirational quote. Ask your supporters to scratch off as many times as they like, and to pay the total donations revealed. When all 56 dots have been scratched off, you will have raised a total of $115, in addition to any extra funds that your supporters may have donated.
Ensuring Transparency:
Place a basic label on each scratch card with the coach's name, team name, email and phone number, in case a supporter wants to double-check that 100% of the funds are going towards the Humboldt GoFundMe fundraiser. They can also contact us. Our phone number is on every scratch card.
Conditions:
100% of funds raised MUST go to the GoFundMe campaign. Limit of 5 Victory Scratch Cards per team. Limit of 500 Scratch cards available for this fundraiser. Scratch Cards available until April 30, 2018. Once you've completed your fundraiser, please email dan@justfundraising.com, to let us know how much you managed to raise and contribute to the Humboldt GoFundMe campaign.
Thank you to all for taking the time to read about this opportunity to help!
Ready to help? Call my colleague, Dan, at 1-888-440-4114
He can answer all your questions, and help you get started.
Warmest Regards,
Jolian Grant
President
JustFundraising.com