FREE Custom T-shirt Prize Plan for orders of 50 cards or more! Get 12 FREE Custom T-shirts for EVERY 50 scratch cards ordered. It's an excellent incentive for your best sellers and as a gift to your volunteer staff. Please call us for details at 1-888-440-4114.
Scratch & Help is a new, fun and easy way for your group to earn up to 100% profit!

A Description of the Scratch & Help Card:
The Scratch & Help Card folds into 3 and can fit into your pocket. On the outside, it's customized with your group name and logo so your supporters know where the money is being donated. When you open up the card, you'll notice there are 3 panels. The left-hand panel contains the simple instructions. The second panel holds the coupon pad which has 30 coupons sheets, with 10 offers on each sheet. The right-hand panel contains 50 scratch dots with donation amounts varying from $0.50 to $3.00.

How Do You Raise Money with the Scratch & Help Card? 3 Simple Steps!
To kick-off your fundraiser, you'll order 1 Scratch & Help card per fundraising participant.

Step 1 - Each of your group member will approach friends, family, relatives and so forth and ask them to support your group by scratching 2 or more circles.
Step 2 - The supporter will pay the total of the amounts revealed underneath the scratch dots.
Step 3 - As a "Thank you", the supporter is given a full coupon sheet containing 10 coupon offers valued at approximately $50.

The fundraising participant keeps the Scratch & Help Card with them until all 50 dots are scratched-off by supporters. A complete card will raise $100 in donations and $80 profit for your group. With 20 kids, you'll raise up to $1,600 profit; with 250 kids, you'll raise up to $20,000 profit. And now, your group will make even more with our 20% bonus offer.

Your Profit: Your group earns $80 profit per completed card.

Bonus Cards: We give 20% free cards with every order of 10+ cards. The money raised with these free cards will cover the entire cost of your fundraiser.

Priced to Sell: The donation amounts are between $0.50 and $3.00, very affordable and perfect for today's economy.

Value for Your Supporters: They give a token donation of $3-$6, and receive over $50 in coupon value in return!

Exclusive Coupons: Each supporter receives 1 sheet containing 10 coupons from popular merchants in your area. Optional for $30 more: If you want more localized offers, we offer our Local-Customize It! Program - Read about Local Customize It (PDF).

Delivery: Once we receive payment, it takes less than 1 week for you to receive your personalized Scratch & Help Cards.

Free Shipping and Low Minimums: Shipping is always free for any order of 11+ cards, The minimum order is only 5 cards, A shipping fee of $5.00 applies to orders less than 11 cards.
Your Group Keeps Up To 100% Profit!
Calculate How To
Reach Your Goal!

How Many Members?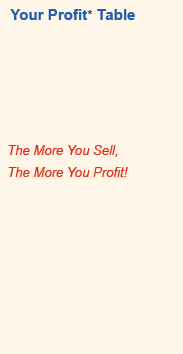 # of Cards

20% FREE Bonus
Cards (Profit)

You'll Raise

Cost

Your Net
Profit

| | | | |
| --- | --- | --- | --- |
| 2 (extra $200 profit!) | $1,200 | $200 | $1,000 |
| 4 (extra $400 profit!) | $2,400 | $400 | $2,000 |
| 7 (extra $700 profit!) | $4,200 | $700 | $3,500 |
| 10 (extra $1,000 profit!) | $6,000 | $1,000 | $5,000 |
| 15 (extra $1,500 profit!) | $9,000 | $1,500 | $7,500 |
| 20 (extra $2,000 profit!) | $12,000 | $2,000 | $10,000 |
| 50 (extra $5,000 profit!) | $30,000 | $5,000 | $25,000 |
20% free cards applies to all orders of 10+ cards that are paid up front.
Call and ask about our special volume discounts on large orders.
Note:
order 1 card per participant. The amounts in the Profit Chart are your Net Profit, and have included any shipping costs. The profit amounts are based on an average selling price of: $20
How Does The Scratch & Help Scratch Card Work?

1. Determine how many fundraising participants will take part in your fundraiser.

2. Order 1 Scratch & Help card per participant, and tell us the name and logo you'd like to have printed on the Scratch Cards.

3. Verify that the state-wide coupon we have for your area is ideal.

4. If 7 out of the 10 coupons aren't good in your area, consider our Local Customize-It! Program.

5. You may pay using a credit card, money-order, or if you're a public school you can issue a purchase order form. We also have 30-days financing available through a credit card hold. Call us for details.

6. Shipping is quick: We always ship out your product the next day following receipt of your payment. Depending on your location, shipping time is approximately 4-5 business days.

7. Prepare and send a letter to your group members and their parents so they are aware of the objective of your fundraiser, collection dates, and your contact info.

8. Keep track of who you have distributed a Scratch Card to. Ideally, have the parents pick them up so they become more involved in the fundraiser.

9. Your participants will ask people to scratch and donate, and in return give them an entire coupon sheet. They must collect their money on the spot.

10. Keep a tally of all the money you collect from each of your participants throughout your fundraiser.

11. When the fundraiser is complete, be sure to send a Thank You note to all parents and kids who participated.

12. Count the profit made from your fundraiser!

Safety Tip: If your participants choose to fundraise door-to-door, they should always be in the company of an adult.

Customer Reviews
Anyone can do it.
Review by Brown Street Academy

| | |
| --- | --- |
| Quality | |
| Customer Service | |
| Profit | |

I love the freedom of not having to sell a product. You simply scratch and pay and you're done. It's simple and easy. Anyone can do it.




I am very pleased.
Review by Houston Takeover Basketball

| | |
| --- | --- |
| Customer Service | |
| Profit | |
| Quality | |

I am very pleased. We are raising funds to take players to Nationals in San Antonio and Dallas.




has been a great hit for us.
Review by Ministerio Internacional Bethel

| | |
| --- | --- |
| Customer Service | |
| Profit | |
| Quality | |

I'm glad that I was given the chance to use the fundraising ideas from the company to raise money for our activity we are doing. Our group is trying to raise money for a year event that we do with our local community. we have invested in the scratch tickets and has been a great hit for us.




over the years I've experienced that area specific coupons do better,
Review by Joseph

| | |
| --- | --- |
| Customer Service | |
| Profit | |
| Quality | |

Scratchers brings in a great profit. And we use it to pay for competition fees, costumes and equipment. The kids can focus their time on the show and less time on raising money. Thank you!




The product was great
Review by Tammy

| | |
| --- | --- |
| Customer Service | |
| Profit | |
| Quality | |

Our FCA group will be purchasing Bibles for our students and paying for our End of the Year BASH to celebrate a great year!!




raised over $1000 in just 2 weeks
Review by St. Leonards Knights

| | |
| --- | --- |
| Customer Service | |
| Profit | |
| Quality | |

Our team did awesome! We raised over $1000 in just 2 weeks. I can't believe how easy it was and fun. With this fundraiser the players will be able to have a huge end of the season party, trophies, medals, and t-shirts.




55 free personalized t-shirts as well!
Review by Riverside High School Ranger Band

| | |
| --- | --- |
| Customer Service | |
| Profit | |
| Quality | |

We just begun a scratch card fundraiser, and we're giving them 55 free personalized t-shirts as well!




Thanks JustFundraising!!
Review by Eloisa CBYFL-

| | |
| --- | --- |
| Customer Service | |
| Profit | |
| Quality | |

With the money we raised we were able to throw our boys an end-of-the-season party to remember!! Thanks JustFundraising!!




Participation of my group was poor
Review by Sara

| | |
| --- | --- |
| Customer Service | |
| Profit | |
| Quality | |

Participation of Your Group Members? 1 = Not Satisfied




The only reason I was disappointed with the financial results was that people did not care so much about the fundraiser.
Review by Autumn CMU

| | |
| --- | --- |
| Customer Service | |
| Profit | |
| Quality | |

The only reason I was disappointed with the financial results was that people did not care so much about the fundraiser.




my order was complete and sent out quickly.
Review by Leslie

| | |
| --- | --- |
| Customer Service | |
| Profit | |
| Quality | |

Customer Service Rep worked hard to ensure my order was complete and sent out quickly.




I would work with Justfundraising again
Review by Robin

| | |
| --- | --- |
| Customer Service | |
| Profit | |
| Quality | |

I would work with Justfundraising again