Football Fundraising
"Football Fundraising Can Tackle All Financial Issues"
A solid football fundraising campaign can be a winning game plan for your football team when it comes down to covering expenses. Your hard work and our helping hand can make your football fundraising experience easy, fun and of course, very profitable. JustFundraising.com's reliable customer service and unbeatable fundraising programs have been the keys to success for many sports teams throughout the years. We will work overtime to make sure your football fundraising campaign is a huge success.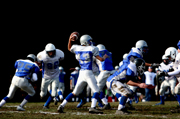 Learn More About Football Fundraisers
TESTIMONIAL: " This fundraiser was for equipments and uniforms. We did awesome with the Simply Tasteful order taker by having each person sell 25 items. The service from your company was great!"
Cindi Kocsis, Bradley Lions Football
Click Here - Free Fundraising Catalog
OR
Call Toll Free 1.888.440.4114
Football Fundraising Can go the Distance
Football fundraising can be a fantastic and practical way of getting rid of financial bothers like equipment fees, travel costs and tournament charges, to name a few. With our dependable and undemanding fundraising programs, your football fundraising drive will have what it takes to become an overnight success. With a little bit of hard work, inspiration and the right product in hand, your football fundraiser will cut your bills down to size and even put a few extra bucks in the pot.
All-Star Football Fundraising Options
In order to achieve all that you can during your next football fundraising campaign, you need to choose a fundraising product that will have supporters lining up at your door. JustFundraising.com will help facilitate this. Here is a list of our personal recommendations. These fundraiser programs have a long history of success and won't fail to work magic during your next football fundraising drive.
Get Started with our Top Quality, No Money Down Fundraisers
TESTIMONIAL: " I was impressed with Justfundraising customer service and having a personal fundraising assistance. Friendly and helpful assistance was given from start to finish of the fundraiser. Our cookie dough fundraiser was a huge success, with a profit of $9500. Everyone loved the cookie dough, and they are looking forward to our next fundraiser."
Lisa Ruquet, Long Island Sound Sharks
Click Here - Free Fundraising Catalog
OR
Call Toll Free 1.888.440.4114
Football Fundraising is all About Getting the Results you Need
A successful football fundraiser will allow your squad to focus on what is most important. Your football team should be training hard and thinking up winning game plans. Why break a sweat over fundraising issues? We're confident that Justfundraising.com will make your next football fundraising effort achieve its highest expectations. Make your next move and request your free football fundraisising info kit.
TESTIMONIAL: "Everyone loved the products. Some customers even sent me thank you notes!"
Mary Harris
So What Are You Waiting For?