This brochure is no longer available, Coming again in Spring 2014
NEW T-shirt Prize Plan Available! When your sellers reach a pre-determined sales target, reward them with a T-shirt personalized with your group name and logo! Offered at an introductory highly discounted price of only $5/t-shirt – that's 67% off the regular price. Please call us toll-free 1-888-440-4114 to have it included with your fundraiser! Learn More
The UnWrap Spring Shopper offers an amazing array of gifts for the whole family, from home decorating, jewelry, and kitchen items to licensed products for the kids. A choice of 92 products and over 30 magazine choices, guaranteed to interest your supporters. A wide selection of specialty items adds a special touch to your get-together. Support your school or organization in true spring style.
The Wolfgang Sweet Temptations Chocolate Products is included with each UnWrap Spring brochure.Wolfgang has handcrafted chocolates and confections for more than 90 years and uses timeless recipes and only the finest ingredients.
Your Profit: Your group keeps a generous 45% profit, with no money up-front to start this fundraiser.
Free Brochures: If your group hits a certain sales level (easily attainable for 95% of our customers), your brochures are free. Otherwise, there is a $0.50 charge per brochure. See the chart below: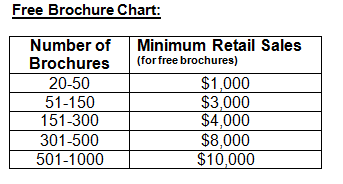 Free Shipping: Your group receives free shipping when you sell $1,000 retail or more. It's easy - a small group of 10 participants has to sell only 10 items at $10 each to get free shipping.
Free Pre-Pack: This program also includes free pre-sorting/student packing. Simply turn in your order forms and let us package your products for you according to seller in order to make your delivery and distribution as quick and easy as possible.
Deadlines: UnWrap Spring! is a seasonal brochure and all orders must be received by March 15, 2013.
Important EASTER Deadlines: For Delivery by March 31, 2013 *Deadline to remit your order is: March 1, 2013. **Payment must be received by: March 8, 2013 ♦ 3 p.m. Eastern Standard Time
***This brochure is a seasonal brochure all orders must be received no later than March 31, 2013 and paid for no later than April 8, 2013 .
Your Group Keeps Up To 45% Profit!
You Raise:

Profit %

Total Profit

Up to $4,999

*40%

Up to $1,999

$5,000+

*45%

$2,250+

Includes Free Prepack
Calculate How To
Reach Your Goal!

Your Profit Goal?

How Many Members?
How Do Shopper Programs Work?
Call us and we'll send you 1 brochure per fundraising participant at NO CHARGE.
Your group members collect orders and payment from their supporters.
You place an order for the products with us.
Your group keeps the profit and pays only the cost of the products.
JustFundraising.com ships the order to you, so you can distribute the products to your supportes. Advantage: No risk of over-ordering. Greater product selection for your supporters
Customer Reviews
Would you consider working with JustFundraising.com again? YES
Review by Mary Women Of AT&T

| | |
| --- | --- |
| Customer Service | |
| Profit | |
| Quality | |

Would you consider working with JustFundraising.com again? YES