NEW T-shirt Prize Plan Available! When your sellers reach a pre-determined sales target, reward them with a T-shirt personalized with your group name and logo! Offered at an introductory highly discounted price of only $5/t-shirt – that's 67% off the regular price. Please call us toll-free 1-888-440-4114 to have it included with your fundraiser! Learn More
Crazy About Cookies Cookie Dough Fundraiser – Our Best-Seller!

8 Delicious Flavors: Chunk Chocolate Chip, Peanut Butter, Oatmeal Raisin, Sugar, Snickerdoodle, M&M Candies, White Chocolate Macadamia, and Triple Chocolate.

The Crazy About Cookies Cookie Dough fundraising program is our #1 selling cookie dough fundraiser. It offers 8 of the best-selling cookie dough flavors from the Premium Collection program. It's perfect for groups that have between 20 and 40 participants, simply because you have to round-up less flavors to the multiple-of-six, when you place your final product order, which means less 'extras' to order. The Order-Taker features beautiful product photos, making the cookie dough virtually sell itself. Ready to start your best fundraising ever?

Quality & Convenience: Cookie Dough has a shelf-life of 12 months. The product can be thawed and re-frozen. It can remain in the fridge for up 6 months. Zero Trans Fat, Kosher Product.

FREE to Start: The Crazy About Cookies Cookie Dough fundraising program costs absolutely nothing to get started. Simply let us know how many fundraising participants you have and we'll send 1 order-taker for each of them, at no charge.

Reach Your Fundraising Goal: Your profit varies from 30% up to 55%! Smaller groups can aim to sell at least 336 tubs, which is at the 40% profit level, for earnings of over $1,700 profit. Larger groups can aim for the 55% mark.

Priced To Sell: Only $14 - $15 for a 2.7 lb tub that makes about 96 half-ounce cookies, or 48 1-ounce cookies. Simply scoop and bake!

Free Shipping and Low Minimums: Your group receives Free Shipping when you sell 150 items or more, easily attainable by even a small group of 15 participants (only 10 items each!). And our minimum order is only 84 items!
Distribution day made easy : It can be kept at room temperature (70 degrees or cooler) for up to 24 hours before being refrigerated again. So no need to have parents and volunteers rush in to collect their cookie dough during a tight 2-hour time window.
Your Group Keeps Up To 55% Profit!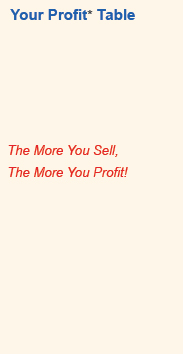 # of Tubs Sold

84 - 149

150 - 335

336 - 701

702 - 1,205

1,206 - 3,005

3,006 +

| | |
| --- | --- |
| $249 - $597 | 30%* |
| $653 - $1,457 | 30% |
| $1,949 - $4,066 | 40% |
| $4,581 - $7,863 | 45% |
| $8,744 - $21,786 | 50% |
| $23,793 + | 55% |
*Orders less than 150 units incur a shipping fee calculated as follows: $1 x (200 - qty sold)
The amounts in the Profit Chart is including any shipping costs.
The profit amounts are based on an average selling price of: $14.50
Calculate How To
Reach Your Goal!

Your Profit Goal?

How Many Members?
How Does the Crazy About Cookies Cookie Dough Fundraiser Work?


Order 1 Crazy About Cookies Cookie Dough order-taker PER fundraising participant – they're FREE of charge!
Have your group members show the order-taker to friends, family, neighbors, and or co-workers and invite them to purchase 1 or more tubs of cookie dough.(Note: Your participants will collect the funds up-front, and will take note of their supporter's name and mailing address on the order form included).
Collect all of the order-takers and all funds raised from your group members, at the end of your fundraiser.
Place your product order with us by completing and submitting the Order Form by fax.
Count your profits – your group pays only the cost of the product and keeps everything else.
JustFundraising.com will ship the entire order to you, so your group can distribute the products to your supporters.
Safety Tip
Please ensure that no minor goes fundraising door-to-door alone. If they choose to go door-to-door, they need to be in two's or three's, and or with a parent.

Product Availability
Shipping to remote areas... or "off-the-beaten-path" sections of the Western states such as Utah, Wyoming, Oregon, Idaho, etc may not be possible. Please call us for details.

What Does Pack-to-the-Case Mean?
Pack-to-the-case means that we will round up each flavor to a multiple of 6.
Example 1: if you order 3 items of a given flavor, we will round it up to 6 items.
Example 2: If you order 21 items of a given flavor, we will round it up to 24 items.

Who pays for these extra items? The cost of these extra items is charged to your group. Don't forget - selling these items will make even more profit for your group.

Top Reasons Why Pack-to-the-Case is Perfect for Your Group!

More Profit: It's a great way to make extra profit and after all this is your fundraiser! Simply sell them to your supporters- many will want a 2nd or 3rd item, especially once they've tried it! There will be others that can still be approached. If you want, you can sell them quickly by offering them at a fire-sale price i.e. only $10 each!

Less Hassle: Groups often end up being short several items because a few fundraising participants turned in their order late or forgot to, all together. The extra items you receive with your pack-to-the-case order will help you cover that shortage. This will help avoid the very expensive costs of refrigerated shipping for the items that you were short.
Customer Reviews
low maintenance / high reward
Review by Rosario 

| | |
| --- | --- |
| Customer Service | |
| Profit | |
| Quality | |

This is a great, low maintenance / high reward way to raise funds for our team. We have been able to get equipment & travel to competitions that we would be without if it weren't for the cookies!




extremely helpful
Review by Liz

| | |
| --- | --- |
| Customer Service | |
| Profit | |
| Quality | |

Delivery man was prompt and extremely helpful and very nice. He called us when he was 20 minutes away and told us when he would arrived.




it ran smooth and the delivery of the product was quick
Review by Justin

| | |
| --- | --- |
| Customer Service | |
| Profit | |
| Quality | |

Very happy. Will be doing another fundraiser soon.Very satisfied the Crazy about cookies fundraiser it ran smooth and the delivery of the product was quick. Very pleased.




organized and streamlined
Review by Emily

| | |
| --- | --- |
| Customer Service | |
| Profit | |
| Quality | |

We have done the cookie dough fundraiser for several years now. Each year your company seems to have gotten more organized and streamlined. I am very happy with the improvements!