Candy Bars
Candy bars have always been guaranteed money-makers. Did you know that 98% of households buy candy? With interested buyers everywhere, you'll make faster sales and more profit! We offer your group America's most popular brands. All boxes of candy bars are compact and come with a handle for easy use. As always, shipping is free!
$1 & $2 Bar Variety Packs - Peanut Free
$1.50 Hershey Chocolatetown Plus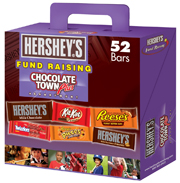 Hershey's $1.50 Variety Pack fundraising bars come in 2 different packs which include Chocolatetown Plus and Hershey Max…
Read Full Details
$1.50 Hershey's Max Assortment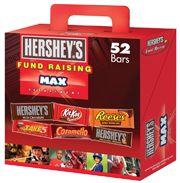 Hershey's $1.50 assortment that showcases six different selections, including the Hershey's Take 5..
Read Full Details
$2 Hershey Fundraising Assortment,
Hershey's $2 Variety Pack fundraising bars come in variety packs that contain 120 candy bars. Candy bar size range from 1.85 oz to…
Read Full Details